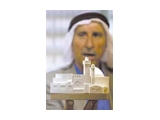 The new head of the Israeli prime minister office Rafi Peled, who just entered his new position in the last month, had time this week to deal with the complicated International problem:The Shehab Eldeen Mosque in Nazareth.
Mr. Peled was interested in getting an update on the plans for building the Mosque which is supposed to be built near the Basilica of Annunciation just before the special committee is supposed to approve the design of the Mosque convenes next week in Jerusalem.
According to the proposal that had been given by a special ministerial committee headed by ex-minister professor Shlomo Ben-Ami in the end of 1999 a mosque will be built on 700 square meters of the 2 donam (1/2 acre) of the disputed land ,Islamic institutions will be built in different sites in Nazareth on a total of 10 donums and a compensation of 400,000$ of to owners of shops and buildings on the disputed land will be given.The Muslims agreed to the proposal but the Christians held the government responsible and hinting that they had their own reservations.
The management of the project was handed to O.R.K. Ltd from Jerusalem -a company which deals with the governmental land authority.
Two international designers prepared plans and designs from which one is to be chosen.
The first design was prepared by Omar Yousif from Jerusalem and Sheli Indick from Australia (the sister of US ambassador in Israel ,Martin Indick).The height of the Mosque according to proposal will be 18 meters.
The second design was planned by A'mar Khamass, who is a Jordanian Architect.According to his plans the hight of the mosque will be 24 meters.Government officials expressed there disappointment of the fact that only 2 designs were submitted.
Salman Abu-Ahmed ,deputy mayor of Nazareth and head of the Islamic party in town promised American President Bush which had spoken on the issue with Prime Minister Sharon (see the article in "come and see" about this), that the mosque will not hide the Annunciation Church.
Next week the design for the Mosque will be chosen by a special committee and Muslims in Nazareth started collecting donations for the building of the mosque.Half a million Israeli Shekel (about 120,000$) were already collected, besides lots of gold and jewelry that Muslim women donated.