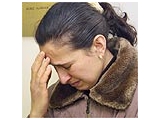 The Army Chronicle will report that Christine Saada, the 12 year old girl from Beit Sahour who loved to swim and play the piano, was killed accidently by a force from the Border Police while hunting terrorists in Bethlehem. These terrorists that drove the first car fired at the soldiers. They were shot to death together with another person. Bombs were found in the car.
The Saada family came in another car, and most likely was a surprise to the soldiers. All what they wanted was to buy at the Supermarket. This Christian Family received tens of bullets. The Army is still investigating.
Christine Saada was badly injured and died on her way to the hospital. Her father who is a principle at a school in Beit Sahour, was seriously injured. After a hard operation, his condition become better. Marian, the other girl in the family who is 15 years old was shot in her leg while the mother Najwa was lightly injured in her arm.
George Saada is now in the hospital and does not understand what happened to his family. "All we wanted was to go to the Supermarket. Christine said she wanted to eat Swiss Cheese. On our way home, we stopped in Bethlehem and I saw two army jeeps and a car that passed them. I drove really slow. I used the blinker to sign I am passing and then passed the jeeps and suddenly they began shooting us.
Family members say the 305 Peugeot that belongs to the Saada family received 30 bullets. "All windows were smashed", Najwa tells us. I looked at my two daughters, I shouted to Christine. She did not answer. I saw the death of my daughter. She was 12 years only and they killed her. The car stopped 75 meters after". The injured family members were taken to the hospital through gate 300.
Najwa tells us about her daughter: "She is very smart. She studied a lot and had high grades. I do not believe that I do not have Christine anymore. She loves music, plays the piano and studied Hebrew at school"
Only later today, during noon hours, doctors told George his daughter was killed. He knew only after he passed the operation successfully. The school where George is principle was closed today as a solidarity with the family.