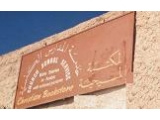 Miss Florence Christie died in Burbank, CA on Wednesday, April 16. She was 93.
This amazing woman served in an orphanage in Egypt for 38 years. Many Egyptian children, now grown are named after her. Serving for such a long time in Egypt, she personally knew Gamal Abdul Nasser, Egypt's late president and the most popular Arab leader in the 20-th century. Later-on she came to Jerusalem and started "Church School Service" which provides illustrated Bible story cards and puppets for Arab-speaking children in East Jerusalem. Many people till today call this bookstore "Miss Christie".
She said the "The hardest part of going was coming home!". This remarkable lady has wrote a book about her life.