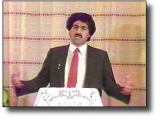 A Canadian peace volunteer about to board a Toronto-bound plane at Ben Gurion airport late Thursday evening was saved from deportation by a last-minute court injunction issued by the Israeli Supreme Court.
Greg Rollins, 30, of Surrey, B.C., had been detained in an Israeli prison since Sunday for being in a closed Israeli military zone in the West Bank town of Hebron without authorization. He was returned to his cell in the Ramle jail to await a plea for his release filed by his lawyer, Jonathan Kuttab.
Rollins, who has been stationed in Hebron with Christian Peacemaker teams, was detained with a fellow peace worker by Israeli soldiers for unauthorized presence in the closed military sector.
Although colleague Chris Brown was released, Rollins was arrested and taken back to jail, said Mary Lawrence, a spokesperson for the devout, mainly English-speaking Christian organization.
On Thursday, Kuttab, the Christian group's legal counsellor, sought an extension from the Interior Ministry for Rollins' visa - which expires next week - to enable him to remain legally in the country until the court hears his case.
He was told by Israeli authorities that Rollins would have to leave the country early Friday morning, Israel time, on a flight to Canada. Kuttab then learned that Rollins' flight had been put forward to Thursday at 9 p.m., ostensibly to "pre-empt the court injunction."
"Rollins has not been charged with any criminal offence, and since his detention, a representative of the Canadian Embassy personally visited him in jail to issue him with a new Canadian passport," said Lawrence.
The Canadian Embassy was not available for comment.
Rollins' deportation is the first faced by the small delegation, which has been operating in Hebron since 1995. Its team of seven people comprises Catholics, Quakers and other Protestants. The team lives in two apartments in the old city's Casbah area.
Group members remain in Hebron by continually renewing their visas. Their activities include escorting Palestinian children from home to school; monitoring the Israeli-manned checkpost; and recording Palestinian complaints of abuse by Israeli soldiers and lawlessness by Jewish settlers.
Until recently, group members were exempt from observing Israeli-imposed curfews.
"But not now," said Lawrence, a Methodist minister from the United States. "When curfews are imposed, we, too, are not allowed to go outside. The military zone is not clearly demarcated, so how can we know whether we have trespassed across the civilian lines?"
Israel has refused entry to some foreign activists and deported others in the last two years, saying they were aiding the enemy. Recently, the Israeli army has forced foreigners entering the Gaza Strip to sign a waiver absolving the army of responsibility for their safety and agreeing not to enter war zones.
The crackdown tightened after two Britons, who posed as foreign peace activists and travelled from the Gaza Strip into Israel, were allegedly involved in a Tel Aviv suicide bombing.
In the last two months, a foreign activist and a British journalist have been killed by Israeli troops in the Gaza strip, and three other activists have been seriously wounded.
Lawrence said the group advocates non-violence and sympathy for both sides.
"We believe that our organization and Rollins' deportation (have) been singled out in the crackdown by Israeli authorities on the big international peace groups in this country, and that it is being used as a warning that the same can happen to their members if they don't tow the Israeli line."
It was not immediately known when a new date would be set for Rollins' court hearing.