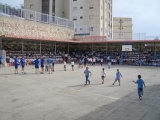 Mr. Said was born in Jerusalem during the British mandate in Palestine and emigrated to the United States when he was a teenager. He has spent a long and productive career as a professor of comparative literature at Columbia and was the author of several widely discussed books.
He was an exemplar of American multiculturalism, at home both in Arabic and English, but, as he once put it, "a man who lived two quite separate lives," one as an American university professor, the other as a fierce critic of American and Israeli policies and an equally fierce proponent of the Palestinian cause.
Though a defender of Islamic civilization, Mr. Said was an Episcopalian married to a Quaker. He was also an excellent pianist who for several years was the music critic for The Nation.
From 1977 to 1991, he was as an unaffiliated member of the Palestine National Conference, a parliament-in-exile. Most of the conference's members belong to one or another of the main Palestinian organizations, most importantly the Palestine Liberation Organization led by Yasir Arafat, but some were members of smaller organizations believed responsible for terrorist operations against Israelis and Americans, such as the Popular Front for the Liberation of Palestine.
"The situation of the Palestinian is that of a victim," Mr. Said told Dinitia Smith in New York magazine in 1989, making the kind of statement that put him at the center of the roiling debate about the Middle East.
"They're the dispossessed, and what they do by way of violence and terrorism is understandable," he said. " But what the Israelis do, in killing Palestinians on a much larger scale, is a continuation of the horrific and unjust dispossession of the Palestinian people."
He added: "'I totally repudiate terrorism in all its forms. Not just Palestinian terrorism ? I'm also against Israeli terrorism, the bombing of refugee camps."
Mr. Said was a widely recognized figure in New York, a frequent participant in debates on the Middle East, and an outspoken advocate of a Palestinian homeland. For many years he was an ardent supporter of Mr. Arafat, whom he called "the leader of a genuinely national and popular movement, with a clearly legitimate goal of self-determination for his people."
But Mr. Said became a bitter critic of Mr. Arafat after the 1993 Oslo accords between Israel and the P.L.O., believing that the agreement gave the Palestinians too little territory and too little control over it.
In the years after Oslo, he argued that separate Palestinian and Jewish states would always be unworkable and, while he recognized that emotions on both sides were against it, he advocated a single binational state as the best ultimate solution.
"I see no other way than to begin now to speak about sharing the land that has thrust us together, and sharing it in a truly democratic way, with equal rights for each citizen," he wrote in a 1999 essay in The New York Times. "There can be no reconciliation unless both peoples, two communities of suffering, resolve that their existence is a secular fact, and that it has to be dealt with as such."
Among the criticisms leveled against Mr. Said by Jews and others was his failure to condemn specific acts of terrorism by Palestinian groups, including some that served alongside him on the Palestine National Council.
One such person, for example, was Abu Abbas, a member of the P.L.O. executive committee who is believed responsible for the hijacking of the Italian cruise ship Achille Lauro and the murder of a wheelchair-bound American passenger, Leon Klinghoffer.
In his interview with New York, Mr. Said called Abu Abbas "a degenerate," but he then argued that important Israeli leaders, like former prime ministers Menachem Begin and Yitzhak Shamir, had been terrorists responsible for the killing of women and children.
Among the political views of Mr. Said that were cited by his defenders was his unambiguous condemnation of Ayatollah Ruhollah Khomeini of Iran for his call on his followers to assassinate the writer Salman Rushdie.
Mr. Said, while opposing the American-led Persian Gulf War in 1991, called the Iraqi dictator Saddam Hussein "an appalling and dreadful despot," and he made similar statements at times about the Syrian president Hafez al-Assad. But Mr. Said was throughout his long career far more critical of the West and of Israel and their attitudes and practices in the Arab world than he was of the Arabs or their leaders.
While Israel and its supporters saw the crux of the Middle East conflict as the Arabs' unwillingness to accept the existence of Israel and the constant Arabic threat to Israeli security, Mr. Said saw matters in terms of Zionist atrocity and Palestinian victimhood.
"In sheer numerical terms, in brute numbers of bodies and property destroyed, there is absolutely nothing to compare between what Zionism has done to Palestinians and what, in retaliation, Palestinians have done to Zionists," he wrote in "The Question of Palestine" (1979).
Mr. Said's best-known and most influential book was "Orientalism," published in 1978, which was an amalgamation of his scholarly position and his political views. In it, Mr. Said laid out a vision of history in which cultural power ? the power to define others ? is inextricably linked with the political power to dominate. The theory he outlined in "Orientalism" was that the Western view of the East as sensual and corrupt, vicious, lazy, tyrannical and backward, exemplified this power.
"The relationship between Occident and Orient is a relationship of power, of domination of varying degrees of a complex hegemony," Mr. Said wrote in Orientalism." The idea, which seemed to be anchored in Mr. Said's own sense of belonging to a dispossessed people, was that the West invented the East as a way of reinforcing the power of colonialism over the colonized. Influenced by French thinkers like Franz Fanon, Michel Foucault and Claude Levi-Strauss, Mr. Said was one of the first scholars to introduce such notions of culture and power into the American academy.
In one of his later books, "Culture and Imperialism," Mr. Said argued that 19th-century and 20th-century British novelists ? even so apparently nonpolitical a writer as Jane Austen ? provided a cultural legitimization for colonialism.
Mr. Said maintained that writers like E. M. Forster, Joseph Conrad and Rudyard Kipling engaged in a "novelistic process, whose main purpose is not to raise more questions, not to disturb or otherwise preoccupy attention, but to keep the empire more or less in place."
Mr. Said's entire life's work drew on his experiences in both East and West.
Edward Said was born in Jerusalem on Nov. 1, 1935, and spent his childhood in a well-to-do neighborhood of thick-walled stone houses that is now one of the main Jewish districts of the city. His father, a prosperous businessman who had lived in the United States, took the family to Cairo in 1947 after the United Nations divided Jerusalem into Jewish and Arab halves.
The 12-year-old Edward went to the American School in Cairo, then to Victoria College, an elite institution where among his classmates were the future King Hussein of Jordan and the actor Omar Sharif.
In 1951 his parents sent him to the Mount Hermon School in Massachusetts. He went on to Princeton University and then to graduate school at Harvard, where he got his Ph.D. in English literature in 1964. The year before that, Mr. Said became an assistant instructor in the English Department of Columbia, moving up to full professor in 1970.
In 1977 he was appointed to an endowed chair, becoming the Parr Professor of English and Comparative Literature and later the Old Dominion Foundation Professor in the Humanities, a position he held until his death.
Mr. Said's first book was "Joseph Conrad and the Fiction of Autobiography," in which he began to explore some of the themes that led to his theories about culture and imperialism.
His second book, "Beginnings," was an examination of literary inspiration, the way a writer lives out what Mr. Said called the "new and the customary."
The book, praised by Richard Kuczkowski in The Library Journal as "an ingenious exploration of the meaning of modernism," won Columbia's Lionel Trilling Award in 1976. His next book was "Orientalism" with its theory that the Orient and especially the Arab world have been created by the Western imagination, as a series of demeaning, reductive stereotypes.
John Leonard, reviewing the book in The New York Times praised the book as "not merely persuasive, but conclusive."
"Orientalism" established Mr. Said as a figure of enormous influence in American and European universities, a hero to many, especially younger faculty and graduate students on the left for whom "Orientalism" was a kind of intellectual credo, the founding document of the field that came to be called post-colonial studies.
Central to Mr. Said's argument was the notion that there was in essence no objective, neutral scholarship on Asia and especially on the Arab world. The very Western study of the East, in his view, was bound up in the systematic prejudices about the non-Western world that turned it into a set of clich?s. Since the Enlightenment, Mr. Said wrote, "Every European, in what he could say about the Orient, was a racist, an imperialist, and almost totally ethnocentric."
This view did not go unchallenged, even among specialists on the Middle East who acknowledged that there was much in the book that was true but who rejected many of its assertions as overdrawn, hyperbolic, and over-simplistic.
"It is a pity that it is so pretentiously written, so drenched in jargon, for there is much in this book that is superb as well as intellectually exciting," wrote the British historian J. H. Plumb in The New York Times Book Review. But Mr. Plumb and others contended that Mr. Said made no effort to actually examine the real, historical relations between West and East, or to sort out what was true "in the Western representation" of the East from what was false and caricatural.
They argued that Mr. Said's assumption was that the Orientalists simply invented the East to satisfy the requirements of cultural superiority and Western imperialism and he ignored the vast body of scholarship that grappled with the East on its own terms.
"The tragedy of Mr. Said's `Orientalism', '` wrote Bernard Lewis, a leading scholar of the Middle East who is criticized in Mr. Said's book, "Is that it takes a genuine problem of real importance and reduces it to the level of political polemic and personal abuse."
During his years at Columbia, Mr. Said also came to play a more active role as a spokesman for the Palestinian cause, becoming a member of the Palestine National Council in 1977 and helping, in 1988, to draft a new Palestinian constitution.
Though seen by most American supporters of Israel as a radical, many Palestinians identified him as a moderate, a figure who reportedly urged Mr. Arafat to help break the Middle East impasse by acknowledging Israel's right to exist. In interviews, he identified himself as a kind of perpetual outsider, a man influenced by two cultures, the Arabic and the American, but belonging fully to neither.
"I've never felt that I belonged exclusively to one country, nor have I been able to identify `patriotically' with any other than losing causes," Mr. Said wrote in The Nation in 1991. As Mr. Said became more prominent, defending Palestinians in written statements and in interviews, as victims of Israeli brutality, he came under attack from supporters of Israel who accused him of supporting terrorism. He was at one point reportedly put on a "hit list" by the Jewish Defense League.
It was in its way an acknowledgement of Mr. Said's importance that an Israeli scholar, Justus Reid Weiner, spent some three years researching his early life in order to show that Mr. Said had falsified his biography. In an article in Commentary magazine in 1999, Mr. Weiner argued that Mr. Said had cultivated a moving personal story of a Palestinian childhood brought to an abrupt and tragic end by the creation of Israel in 1947, when, in fact, according to Mr. Weiner, Mr. Said's childhood home was Cairo.
Interviewed by a reporter for The New York Times, Mr. Said replied that he had never denied that he had grown up in Cairo as well as Jerusalem. "I don't think it's that important in any case," Mr. Said said. "I never have represented my case as the issue to be treated. I've represented the case of my people, which is something quite different."
Another, earlier article in Commentary, entitled "Professor of Terror," elicited a spirited response, with both Jews and non-Jews coming to Mr. Said's defense. "To portray Said as a devotee of terrorist politics is a gross distortion of his life's work as a scholar and militant," wrote Richard A. Falk, a political scientist at Princeton.
In 1991, Mr. Said, who learned during a routine visit to his doctor that he had leukemia, quietly stepped down from the Palestine National Council. But when Israel and the P.L.O. signed a peace agreement in 1994, Mr. Said spoke out angrily against the leadership of Mr. Arafat, not only, in his view, for giving away too much to Israel but also for the corruption and tyrannical nature of his rule.
"He's sold his people into enslavement," Mr. Said said of Mr. Arafat in 1994. Speaking of the P.L.O., he said, "They're a leadership without credibility and without moral authority, and I don't know any Palestinian today who considers the P.L.O. in its current form anything but an organization of losers and has-beens."
In his last years, Mr. Said's literary production became more and more political. In 1979 he published "The Question of Palestine" and two years after that, "Covering Islam" in which he tried to show how Westerners depicted Arabs as "synonymous with trouble ? rootless, mindless, gratuitous trouble."
Mr. Said's last book was "The Politics of Dispossession," which extended his criticism of Western attitudes toward the Palestinians but also portrayed the Palestinian leadership as profligate and corrupt.
Reviewing that book in The New York Times, David Shipler wrote: "Reading Mr. Said is like being yelled at for hours on end, and it takes a good and willing ear to appreciate his calmer passages of insight, to hear the essential melodies that run beneath the discordant onslaughts."
Mr. Said's first marriage, to Maire Jaanus, ended in divorce. He is survived by his wife, Mariam Cortas, a son, Wadie, and a daughter, Najla.