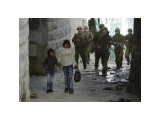 BETHLEHEM, West Bank, Nov 30 (Reuters) - There was little more sign of conflict in Bethlehem on Sunday than a toddler toting a plastic rifle in the Nativity Church.
But the countdown to Christmas got off to a subdued start more than three years into a Palestinian uprising that has brought misery and decline to the West Bank city revered as the birthplace of Jesus.
"Here in Bethlehem the intifada is over," said 23-year-old trinket seller George Hussain. "Everyone is tired. We're just hoping that this year will be better than last, but there are still no tourists."
"Do you want to buy a keffiyeh?" he asked hopefully, holding out a plastic bag stuffed full of Arab head-dresses.
No more than a handful of tourists walk along the pretty stone streets where throngs of pilgrims once gave Bethlehem its economic lifeblood.
Fading posters of ammunition-draped "martyrs" from the earlier days of the uprising decorate alleys of shuttered stores that no longer open to sell their olive-wood crib scenes and crowns of thorns.
This time last year was much worse. Bethlehem was under military curfew and occupied by Israeli troops after a suicide bomber from the city killed 11 Israelis on a bus in nearby Jerusalem.
"We hope that the political situation will improve, that there will be dialogue again. People cannot continue to live like this," said Father Ibrahim Faltus after mass on the first Sunday in Advent.
SCARCE OPTIMISM
There are faint hints of promise for Israeli-Palestinian peacemaking after a spell of relative calm. There is talk of reviving a stalled U.S.-backed road map and Palestinian militants discuss a new truce in Cairo this week.
New Palestinian Prime Minister Ahmed Qurie has dampened hopes of an early meeting with Israeli counterpart Ariel Sharon, though, saying Israel must first stop building a separation barrier that cuts deep into the occupied West Bank.
The Israelis say they want the barrier of concrete and wire, just visible from Bethlehem's bell-towers and minarets, to stop suicide bombers. Palestinians call it an attempt to draw a border through land seized in the 1967 Middle East war.
"We pray to God to help. Maybe he can change the minds of the people and get them to talk," said tour guide Jiries Canavati, lounging by a bullet-chipped wall and hoping for work.
Whether talks happen or not, it will be too late to stop the flood of Palestinian Christians leaving Bethlehem in search of better prospects.
Christians tend to find it easier than the West Bank's Muslim majority to win foreign residency, and the fact that Christian families are well established abroad gives those who want to leave somewhere to go.
Incense drifted on Sunday through a church that was far from packed and where many of the worshippers were too old to contemplate starting again in another country.
"Many of the children have left, gone to America, gone to Sweden," said Sami Giacaman, a 72-year-old lab technician. "What we have here, you cannot call it a life."