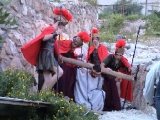 Roman soldiers bearing torches and spears emerged from an olive grove, shoving and kicking a stumbling Jesus in a Passion play in his boyhood town, starring a local construction worker.
Wary of allegations that Mel Gibson's film, "The Passion of the Christ," unfairly portrays Jews as the driving force behind Jesus' crucifixion, organizers say their Easter Week reenactment is not about blame.
The outdoor performances by local Arab Christians and volunteers from the United States and Europe take place in Nazareth Village - a life-size replica of a first century farming village built with the help of archaeologists and biblical scholars on a hill above modern Nazareth.
The reenactments, which began last week and continue through Saturday, emphasize the betrayal by one of Jesus' disciples, Judas, and the brutal treatment at the hands of the Roman soldiers.
"It's really important for people to understand that this is the culmination of the life of a man who gave himself for reconciliation. It's not about condemnation," said Michael Hostetler, director of Nazareth Village
A performance in Arabic Tuesday night for an audience of about 100 people from Nazareth began with the Last Supper.
Under a full moon, the actor portraying Jesus washed the feet of his 12 disciples, volunteers from the audience. They sat around a long, low table beneath a tent, their faces illuminated by small oil lamps.
Jesus is played by a 33-year-old Nazarene, Samir Hawa, who plows the wheat and barely fields nearby during the day and helps with construction on the site, just like the biblical Jesus, traditionally identified as a carpenter.
As the audience walked through the village, the next scene unfolded at the synagogue, where Judas conspired with the high priest to hand over Jesus. The priest tossed him a small sack of coins.
Moments later, Roman soldiers in red-plumed helmets and cloaks appeared from behind the crowd, dragging Jesus into a building to stand before Pontius Pilate. Then he was flogged, his simulated screams heard from inside the building.
In the glow of streaking torch light, the Roman troops shoved Jesus - wearing a crown of thorns, red paint representing blood on his face and hefting a cross on his shoulders - along a winding path through an olive grove.
They occasionally barked at the audience to stand clear. A choir followed, singing "Via Dolorosa" in Arabic, representing the route Jesus took to his crucifixion.
Some in the audience gasped as Jesus' feet gave way and the burly man stumbled to the ground.
Among the soldiers in Tuesday's show were students from Eastern Mennonite University in Harrisonburg, Va., who are traveling with their religious studies professor through the region.
They shouted at Jesus to get up and threw in the occasional, "Yalla, imshi," Arabic for "Let's move it," drawing a few chuckles from the crowd.
"It's a great show, to see how Jesus went through all of this for us," said Ihab Sayigh, 25, a Nazareth resident who works for a software company.
Hawa, who plays Jesus, acknowledged that it's not easy to get roughed up for two shows each night. But his work in the play and at the village is worth the toll, he said.
"I want to do something with my life," said Hawa. "I can't speak to the people; I can't be a priest. So this is the best way for me to do it."
Nazareth Village is an attempt to recreate a working Galilean village of 2,000 years ago, to farm it with period tools and to understand how that land might have influenced Jesus.
The six-acre village, which opened in October 2000, draws many volunteers and about 10,000 visitors a year. Modern-day Nazareth is a city of 70,000, about one-third of them Christians.