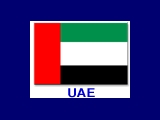 Athens --- A University of Georgia student and two other Americans who had been detained for three weeks in the United Arab Emirates for distributing Christian materials were released from jail and deported on Monday.
Officials with the U.S. State Department would neither confirm nor comment on the deportation, nor would Robert Beckwith, director of student ministries at the Wesley Foundation, a United Methodist student center on campus of which the student was a member.
Ben Smalley, Dubai bureau chief of the Gulf News, said Monday that the men had been deported.
The UGA student had traveled to the Islamic Middle East country on a spring break mission sponsored by Frontiers, an interdenominational, evangelical group based in Mesa, Ariz. The group's purpose is "planting reproducing churches among unreached Muslim peoples," according to its Web site.
The missionaries were arrested in Dubai for allegedly handing out Christian materials on a crowded street. Proselytizing is not allowed in the Islamic United Arab Emirates, and comes with a penalty of five to 10 years in jail.
UAE is a Mideast Islamic country with a small Christian minority