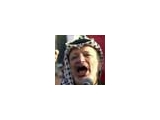 RAMALLAH, West Bank (CNS) -- Amid continuing speculations over Palestinian National Authority Chairman Yasser Arafat's deteriorating health, some Catholics expressed fear extremist Islamic groups would gain strength after he dies.
At Ramallah's Holy Family Catholic Church, Father Ibrahim Hijazin acknowledged that one of the main concerns of Christians at the moment is how Islamic groups will react in the face of a power vacuum within the Palestinian National Authority.
"There is this fear for the future as Christians -- but there is that fear in Iraq, in Jordan -- everywhere in the Arab world," Father Hijazin said Nov. 7. "What will be after Arafat? Some fear there will be infiltration (of radical Islamic forces). They are fearing there will be some problems (within) the Palestinian Authority which will reflect itself ... especially (on) the Christians."
The Arab Muslim world connects local Christians to what they perceive as the "Christian countries" of the United States and Britain acting in Afghanistan and Iraq, he said.
Although no special Masses were said for Arafat, Father Hijazin said Arafat was in all their thoughts and prayers.
Neveen Halteh, 20, a marketing student at Jerusalem's Al-Quds University, was not optimistic about change after Arafat.
"Our situation will be worse," she said as she waited to go into Mass at Holy Family. "Maybe Israel will come in; maybe (Islamic) extremists will come.
"They hate us. I am afraid we will not have peace," she added. "Arafat was keeping everything under control, but now he will be gone, and we don't know what will happen without him."
Shadi Hindaileh, a 25-year-old civil engineer and member of Holy Family Parish, said it is irrelevant whether Arafat dies now or later. His death is inevitable, and the Palestinians will be facing these same issues eventually, he said.
"Arafat was good with the Christians; maybe those after him will be too, but we can't be sure, so there is fear. I don't know how we can prepare ourselves for another leader," he said.
"In my heart part of my prayers will be for Arafat (but also) for the stability of my country," said Luren Sansour, 49, as she led her two children into the Ramallah Mass.
However, Bernard Sabella, a Catholic and a sociology professor at Catholic-run Bethlehem University, said the Christian dimension of the succession issue does not concern him.
"That is nonsense," he said. "Our good relations are not because of Arafat. He may have been instrumental in promoting Christian-Muslim relations, but traditionally our experience as Christians living in Muslim lands has been excellent."
What is important, he said, is that the transition of power go smoothly and lawfully. Anything other than that will benefit only the Israelis, he said.
Arafat, 75, was flown from Ramallah to a Paris hospital for treatment of an undisclosed blood disorder Oct. 29. After brief reports that his health was improving, it was announced that he had fallen into a coma Nov. 3. He has been on life support since then, and the Palestinian media and spokesmen have been issuing conflicting reports about his condition; at one point, his death was announced.
Former Palestinian Prime Minister Mahmoud Abbas, current Prime Minister Ahmed Qureia and Foreign Minister Nabil Shaath canceled, then rescheduled, a Nov. 8 trip to Paris after Arafat's wife, Suha, said the men were trying to "bury (Arafat) alive."
Ramze Zananiri, director of the Middle East Council of Churches' Jerusalem office, said Christian leaders were "prayerful and hopeful" that Arafat's condition will improve.
"We all hope (Arafat's condition will improve). Now he is at God's mercy," said Father Shawki Batarian, chancellor for Jerusalem's Latin Patriarchate. "He was the leader of the people and the one who unified all Palestinians. Most important is that at Arafat's passing (all of Palestine) remain one in order to build the Palestinian state and put aside all personal issues.
"In any country when the chief passes, there is always confusion during the transition period," he added. "I hope nobody tries to take advantage of this and push through his own personal interests."
Arafat, who retains the titles of president of the self-declared Palestinian state and chairman of the Palestine Liberation Organization, was able to keep in check the political aspirations of Islamic extremist groups such as Hamas and Islamic Jihad. He also was able to distance himself from the charges of corruption that surrounded his deputies and certain Palestinian National Authority officials, thus allowing him to be viewed as a symbol of unity for the Palestinian people.