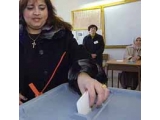 "We wish them the best. We need to continue to address (the issues) with prayer and hope as we look to the future in solidarity with people here," Bishop Skylstad said.
According to the Catholic News Service, Msgr. William P. Fay, general secretary of the bishops' conference, and John Carr, secretary of the U.S. bishops' Department of Social Development and World Peace were also attending the conference.
The group observed voting at two polling sites in East Jerusalem and two in Bethlehem, West Bank, where they also celebrated Mass at a Melkite Catholic church and met with local parishioners.
"The hope would be that the Palestinian people would see this as an opportunity to clarify for themselves what is important, and what is important is to continue working toward peace," said Msgr. Fay. "We hope that whoever is elected sees that violence is not the way to (reach) real justice and peace."
Though Palestinians were out voting, there was a "degree of wariness" about whether the election would have any effect on the future, he said.
Msgr. Fay said he hoped the person elected would be one who could lead the Palestinians to a just peace and that the Palestinian people would stand behind their newly elected leader.
The next day, former Palestinian Prime Minister Mahmoud Abbas was declared president of the Palestinian Authority.
Abbas won 62.3 percent of the vote; his main challenger, independent candidate Mustafa Barghouti, won about 20 percent. The remaining five candidates scored in low single digits, the Associated Press reported.
Carr said the day was "full of expectation and skepticism as to the road forward."

Bishop Skylstad agreed and said, "We picked up a mix of (emotions) all the way from skepticism to hopefulness." He added that people in the Holy Land need "peace and freedom."