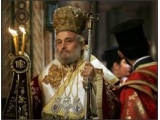 Dozens of faithful held a demonstration Sunday, calling Patriarch Eireneos a "collaborator" and demanding his resignation. Palestinian church leaders have also demanded that he step down.
The controversy erupted after the Israeli daily Maariv reported Friday that the church had sold properties in the predominantly Arab sector of the walled Old City of Jerusalem. The Old City is home to Jewish, Christian and Muslim holy sites.
A land sale to Jews in east Jerusalem, while legal, would be seen as a betrayal to Palestinians. The Palestinians claim the eastern part of the city, which includes the Old City, as the site of a future capital. Israel, which captured east Jerusalem from Jordan in the 1967 Mideast War, claims the entire city.
Archbishop Aristarchos, the chief secretary of the patriarchate, declined to confirm or deny whether the sale had taken place.
"This is an unfortunate event. We are investigating," he said. "We shall try to cancel whatever actions have been done illegally."
In a statement, the church said any sale that might have taken place was unauthorized, adding an arrest warrant had been issued in Greece for a former employee allegedly involved in the case.
In Athens, Greek Foreign Ministry spokesman George Koumountsakos said Greece would send a team of experts to Jerusalem on Monday.
"Greece wants an immediate investigation into the case," Koumountsakos said in a statement. Such a sale, "if it actually took place, violated the rules governing the Patriarchate and occurred without the knowledge of the Synod. If all this is proved, then we of course condemn these actions."
During Sunday's protest, several dozen people gathered at the Church of the Holy Sepulcher - the traditional site of Jesus' crucifixion and resurrection - and marched to the Greek Orthodox Patriarchate, chanting slogans and carrying signs such as "no to Judaize Jerusalem" and "We will not rest until the patriarch is fired."