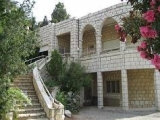 Southern Baptist work in Israel dates back to 1911 when Israel was under Turkish occupation. In the mid-1990s, the IMB adopted a policy of disengaging from supporting or cooperating with local Baptist churches.
The Baptists in Israel maintain that Southern Baptists through the decades have given their tithes and offerings for purchasing property in Israel. In their view, selling this property is not only not ethical but poor stewardship, as well. They say the IMB should be protecting their investment in the Land not selling off properties in order to raise money for projects elsewhere.
Mr. Bader Mansour, a lay leader and Treasurer of the Association of Baptist Churches in Israel, wrote the following recently to Dr. Jerry Rankin, current president of the IMB:
"Odd as this may sound, when it comes to Christian owned property, the phrase "Property for Sale" is simply unheard of in the Jewish State of Israel. Once property is sold it is lost to the Christian community and can no longer be used for His purposes. Nazareth is a unique location, of course, because Jesus grew up here. And it is therefore our position that it is of strategic importance that the Christian and Baptist witness be maintained in this city by saving the property that belongs to a Christian evangelical institution. We also think it is strategic for the global Church to be interested in assisting the local Christians to be salt and light...and bold witnesses to other groups that live in this troubled Land."
The IMB has given local Baptists until May 15, 2005 to come up with the funds needed to purchase the building otherwise it will be put up for sale on the open market.
To sign the petition for the Baptist House in Nazareth not to be sold, check this link
http://www.petitionspot.com/petitions/nazareth-building