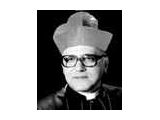 Going beyond the Vatican's stance, the Palestinian head of the Roman Catholic Church in the Holy Land said yesterday that a total Israeli withdrawal from the West Bank and Gaza Strip was the only route to peace.
Michel Sabbah, the Latin Patriarch of Jerusalem, said that only recognition of Palestinian rights to sovereignty on all the land Israel occupied in the 1967 Middle East War, including Arab East Jerusalem, could end the violence between the two sides.
"The cause is Israeli occupation of Palestinian soil. Palestinian violence, Israeli violence in response, are simply two effects of this cause," Sabbah told a news conference in Paris while on a visit to France. "It has to be said that there is an Israeli military occupation of Palestinian soil which must stop. It is as simple as that. When it stops, we can have peace," he said.
He said Israel had a right to live in security inside its pre-1967 borders but questioned whether the Jewish state could survive in the long term without a settlement to the century-old conflict with the Palestinians.
At least 381 Palestinians, 13 Israeli Arabs and 71 Israelis have been killed since a Palestinian uprising against Israeli occupation began last September after the breakdown of peace talks.
In an Easter message last week, Sabbah called for an end to the use of deadly force and said violence could not "kill the soul of a people" without referring directly to Israel. He said yesterday that an end to occupation had to include East Jerusalem, which Israel captured in 1967 and annexed in a move that is not recognised internationally.
Palestinians want East Jerusalem as capital of a future state. Sabbah said he was confident a solution to the status of the city that was acceptable to both sides could be found as long as Israel recognised Palestinian sovereignty in East Jerusalem.
"That must be the starting point," Sabbah said. East Jerusalem includes the walled Old City, home to religious shrines sacred to Christians, Moslems and Jews. Sabbah acknowledged that his position went beyond that of the Vatican, which has called for a just solution to the conflict that respects Palestinian rights to a homeland without spelling out the territorial terms.
It has also called for Jerusalem, which Israel regards as its "united, eternal capital", to be safeguarded as a city sacred to three religions. Sabbah said Palestinians were "at the mercy" of what he called "the great Israeli military power" and that use of force would breed only more hatred.
"If Israel really wants peace and Israel wants the security it must have, the means are not reprisals," Sabbah said. "The path to security is to recognise the rights of this little Palestinian people and to turn the Palestinian people into a friend."