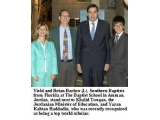 The Amman Baptist School, founded in 1974, houses more than a thousand students from 40 days old through the 12th grade. Both boys and girls, Christians and Muslims take part in an academically rigorous program aligned with the national Jordanian curriculum. At the high school level, an all-English language curriculum sponsored by the University of Cambridge.
Named the academic director of the Baptist school in 1997, Barlow has since become its general director, serving in a capacity comparable to a school district superintendent in the United States. He and his wife, Vicki, and one other American, Barbara Johnson, who serves as the school?s music education director, are the only Southern Baptists at the otherwise self-supporting school.
Barlow told Florida Baptist Witness the IGCSE program at Amman Baptist began in 1997 with nine students. Today there are more than 130 students enrolled the diverse curriculum that focuses on critical thinking skills and encourages a close relationship between the student and the teacher, Barlow said.
Calling IGSCE a program which ?pays big dividends in student character, good morals, and intellectual growth,? Barlow said he knew the school?s program was ?one of the best in the kingdom, but had no idea that it would be recognized? by the academic organizations honoring Haddadin.
Citing statistics which put 92 percent of The Baptist School?s high school students ahead of the learning curve, Barlow said those taking the test scored four times better than the worldwide average.
With the motto, ?Excellence in Education ? Education for Life,? Barlow said the Baptist School takes seriously its role in sharing the love of God in a way that draws on excellence in teaching. The school is able to stay abreast of the best way to prepare their teachers and principals through ongoing partnerships with Samford University of Birmingham, Ala.; and LifeWay International.
?Our students and their parents know that we care for them and want each one of them to succeed,? Barlow said. ?In this type of environment almost all students thrive, which often translates into academic success.?
Over the last three years, The Baptist School has been ranked among the top ten schools (academically) in the kingdom, Barlow said. It is the only school in the kingdom to offer complete programs in all five graduate curriculums: National curriculum ? Arabic language: Arts, Sciences, Information Technology, & Vocational Education (hotel management); International curriculum ?English language: IGCSE & A-Level.
Managing to run an obviously Christian school in a pre-dominantly Muslim country at a time when tensions between the two groups are high doesn?t appear to present a problem at the Baptist School, according to Barlow. ?Our students come from 11 different countries with a number of new students coming from Iraq, their families fleeing the war there,? Barlow told the Witness. ?Regardless of their background, it is well known that all of our students are treated (and loved) equally.?
Acknowledging parents throughout the world want a good education for their children, Barlow said Arabs living in the Middle East are no different. By providing a quality education?and reaching out to the poor and children with special needs through volunteer and charity programs?the Baptist School is valued in the community, Barlow said.
?Because of these things, we are always welcome to participate in community life as a friend and full partner. Because we have earned the respect and trust of the community, we are given our full rights as Christians to share the love of God openly and boldly with our students, their families, and in every place and event in which we participate,? Barlow said.
?Muslims are not our enemies, Satan is,? Barlow continued. ?The greater Arab evangelical community in Jordan feels that the Baptist School of Amman is proof that you can, in a predominantly Muslim country, have a great academic school that is distinctively Christian. For this trust and affirmation, I and our school staff are deeply grateful.?
Barlow?s concern for Arabs throughout the world is not limited to Jordan, however. He encouraged Florida Baptists to make a ?special effort? in reaching Arabs living in their communities.
?For me, please pray that God will grant me wisdom to fully understand a complex and complicated area of the world and how best to share God?s love and the hope of Jesus Christ with all persons with whom I come into contact,? Barlow said.
Barlow also asked for Florida Baptists to pray him and Vicki, and their children, John, 14; Anna, 12; and Sarah, 11 as they prepare for a year-long stay in Pensacola next year
?Please pray for the ministry of the school, our school board, the Jordan Baptist Convention, and our school staff as we seek to expand the school?s influence for God in a number of exciting and creative ways,? Barlow added.
?A little light can go a long way in illuminating the darkness. We pray that the Baptist School of Amman will be that little light that God will use to bring glory to Himself in Jordan and in the Middle East.?