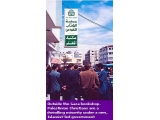 Threat continues
The reopening comes after an initial false report in late March that Gazan authorities had captured a small group responsible for the threats.
"It wasn't true, so the threat is still on," Massad wrote. "We do not know who is behind it."
On 3 February, unidentified terrorists exploded two small pipe bombs in front of the bookshop, destroying its steel and glass doors.
A note left by the terrorists threatened to kill the landlord and others living in the building unless the Bible Society vacated by 28 February.
The terrorists also warned the Bible Society not to continue ministry elsewhere in the Palestinian territories.
Bible Society staff repaired the building and continued the centre's community ministry until increased death threats to staff led the Society's directors to temporarily close the centre.
Open Doors helps to support the Palestinian Bible Society and the Gaza bookshop.
Massad asks for ongoing prayer:
"The situation in Gaza still very dangerous, and the threat is still on," he wrote. "The evil one tried everything he could to stop us doing what God has called us to do."