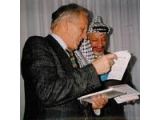 In four parts, the book introduces a world marked by horror, violence, and death. We see this world through the eyes of Brother Andrew who travels throughout Lebanon and the Palestinian territories seeking to encourage the churches in these dangerous areas. As he travels, he meets courageous evangelical men and women who love God wholeheartedly and serve Him in the midst of very depressing circumstances. This could be the unique contribution of this book for it unpacks before its readers the stories and struggles of many faithful Lebanese and Palestinian evangelicals who are committed to following Jesus Christ. Through their lives and struggles, the reader considers the dwindling numbers of Christians in Lebanon and the Palestinian territories, and the escalating influence of Muslim fundamentalists.
Most of the book deals with the Palestinian Evangelical church and its context. It focuses on the contributions of Bethlehem Bible College, the Palestinian Bible Society, the Jerusalem Alliance Church, Musalaha, and the Baptist Church in Gaza. Brother Andrew meets with the leaders of these ministries. He encourages them and inspires them to be faithful in the midst of trouble. He also listens to their needs and through "Open Doors" partners with them in prayer and financially.
Last, the book presents a unique Christian perspective concerning Muslim fundamentalists. On the one hand, they are not mindless, nameless, or faceless terrorists. Instead, they are hospitable friends and hurting people. On the other hand, the authors emphasize that they don't condone any terrorist actions. Their words and actions lift up Christ without demonizing or dehumanizing Muslim fundamentalists. They see that doing the former properly demands a deep and sincere love for all Muslims. Such love seeks to visit these Muslims, hear their anguish, and respectfully present the living Christ to them.
By the time, the reader finishes this book, he or she will be informed, inspired, and prompted to be involved in remembering their brothers and sisters in the Middle East, in reflecting on their eschatological/theological positions in light of the Middle Eastern church, and in responding with love to Muslims, Jews, and Christians in the Middle East.
To order your copy of "Light Force", check this
link
To learn more about the writer of the book review check his web site at
www.katanacho.com