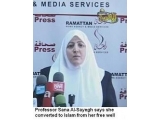 Following the conquest, spokesmen and various local officials affiliated with Hamas announced that an era of strict Islamic rule had begun in Gaza.
According to a report in Middle East Newsline last week, Hamas and its followers are moving fast against non-believers in the area. Fatah officials who spoke to the news service on condition of anonymity said Hamas is pressing leaders of the 2,000-strong Christian community to either convert to Islam or emigrate.
The Jerusalem Post earlier reported that Prof. Sana al-Sayegh, dean of the science and technology faculty at Palestine University and a Christian, had been abducted by several of her Muslim colleagues and forced to convert and marry a Muslim man.
Weeks after her disappearance in late June, al-Sayegh's family was invited to a meeting with several aides to Hamas Prime Minister Ismail Haniyeh. Surrounded by Hamas gunmen, a distraught and crying al-Sayegh informed her family that she had become a Muslim.
Hamas maintains that al-Sayegh's conversion was a matter of personal choice and that it is vigorously protecting the rights of Gaza's Christians, but Dr. Walid Phares, a senior fellow at the Foundation for the Defense of Democracies, told Cybercast News Service that the exact opposite is true.
"Hamas states that it 'protects' minorities with the same energy as the Taliban and the Islamist regime in Sudan have stated before," said Phares. However, "the reality is that the Jihadist agenda of Hamas includes gradual but strict implementation of shari'a law.
"What that means for the Christians of Gaza, explained Phares, is that they will "be subjected to second-class citizen treatment."
Phares said that as a result of this increasing Islamic pressure, Gaza's Christian community is considering fleeing the area en masse. Many have already left.
Christians are not the only victims of Hamas' iron-fisted rule of Gaza. The group does not tolerate any hint of criticism or dissent, even from fellow Muslims.
On Monday, some 300 Palestinians violated a Hamas ban on public demonstrations and gathered in a central Gaza City square chanting, "We want freedom." Many more people were prevented from ever reaching the location.
Heavily armed Hamas militiamen quickly broke up the protest, wounding a large number of people with clubs and rifle butts, and arrested many others before subjecting them to long hours of interrogation.
Later in the day, Hamas forces raided the local offices of international and Palestinian news agencies and confiscated all coverage of the demonstration and the suppression of its participants.
The group reportedly also broken up a number of weddings where songs affiliated with the rival Fatah organization were being sung.
Watch the Press conference where Prof. Sana Al-Sayegh says that she converted to Islam, based on a decision and a conviction made by an adult. This press conference was broadcasted at Al-Aqsa TV station, from Gaza