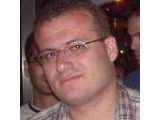 Rami Ayyad was found dead near the Bible Society Bookshop in Gaza early this morning. He was kidnapped last night by an unknown group directly after he closed the doors of the bookshop at around 16:30. A day before, Rami noted that a car with no plate numbers had been following him. News of his kidnap was reported to the main office after his family received a telephone call from him at around 18:00 saying that he had been taken by a group of people and will return home late that evening. Another phone call was made carrying a similar message. The director of the Bible Society had informed the Police in Gaza of the incident.
At 6:25 this morning, news was received that Rami's body had been found at a location near the Teachers' Bookshop in Gaza were he had spent most of his time running the bookshop. Signs of bullets and knife stabs could be clearly seen on his body. His head was crushed, brutally killed.
Rami, 29, leaves behind two young children, and a pregnant wife. The funeral took place at 16:00 today. No group or party has claimed responsibility.
Ayyad's mother, Anisa, said her son had telephoned his family after he was seized. "He said he was going to be with the 'people' for another two hours and that if he was not back (by then), he would not be returning for a long, long time," she said. "Rami died defending the Bible. Rami paid in his blood for the sake of Christ."
The Jerusalem Post reported that the Interior Ministry run by Hamas condemned the killing and said it launched an investigation.
"This grave crime will not pass without punishment," the ministry said in a statement.
Around 1.5 Million Moslems live in Gaza and about 3,200 Christians, most of them Greek Orthodox – and a rather smaller Evangelical Community of less than 200. Relations between Gaza's Moslems and Christians are generally good, and have not deteriorated since Hamas wrested control of the strip in mid-June.
The Bible Society in Gaza has received previous threats and vandalism. However, the support from the community has been very well noticed because of the humanitarian role that the Bible Society has been taking the last four years in the strip.
To read the updated story (Posted October 14, 2007) click -
here
Watch this video of Rami's funeral (In English and Arabic)