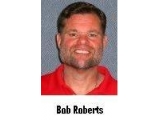 "There are some Muslims that have made life difficult for them and there are some Israeli's that have made life difficult for them. But, the greatest rejection, and most painful of all, has been that of their Christian brothers from the church in the West. It's not just rejection though, it's oblivion". This is how Dr. Roberts writes in his blog after his visit to Israel and the Palestinian Authority where he has met Palestinian Evangelical leaders in both Bethlehem and Nazareth.
Roberts continues: "The life of Palestinian Christians is very difficult, but if they leave who will share the light and love of Jesus? I met 8 pastors in Bethlehem. I was impressed with every single one of them. They are educated, effective, and passionate. They are closer to the culture than anyone else. Does Jesus love Palestinians and Jews? Does He want there to be a light and witness whether men accept Him or reject Him? Were there conditions to who could fulfill the Great Commission or was it really the call of all believers?"
Roberts' unique principles have transformed the people and ministry at NorthWood and its 100 (and counting) church plants and "adopted" nations throughout the world. He is the founder of Glocalnet, a network of like-minded leaders who are advancing a glocal church multiplication movement that connects the body of Christ worldwide.
To read the full posting on his blog, visit –
http://www.glocal.net/2008/01/10/evangelical-american-pastors-meet-evangelical-palestinian-pastors/