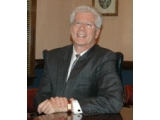 Mansour is an Arab Christian, not an uncommon identity in Nazareth, but still rare.
"He was greatly disappointed in what I'd written".
He is a gracious man, so his words were not harsh, but inside them swirled unspoken comment, acrid and constrained, like smoke in a cannister.
My story was a tourist's flyover of his country. We had talked at lunch during my hours in Nazareth, and he was hoping somehow that I and the other editors would come back and write about the complex issues besetting Israel. He was looking for a word of support for Arab Christians who wage a lonely campaign for Christ in the midst of a vast majority of Muslims, Jews, Palestinians and Zionists.
He was likely hoping for a word to Christians in America about the loneliness Arab Christians feel when all the encouragement, resources and foreign policy from this country seem to flow to benefit everyone but Christians' spiritual brothers.
But those issues are so complex they are the stuff of doctoral theses, not of a flyover analysis by a working tourist. I could never do justice to the issues closest to Mansour's heart, which are the pumps and valves of his every breath and that he understands from the bleeding side of his skin.
But he has no voice in America and virtually none in Israel. He speaks with much influence in Nazareth, however, as general director of the city's best school - a school recognized as elite in the entire country. It is a Christian school, a Baptist school, and Christians, Muslims and Jews vie for spots in the student body because it is so good.
To Nazareth Christians though, it is more than a school. It is a broad avenue to Christian witness in Jesus' childhood city. It is a "living stone" as he said, yet when Christians come to Israel, they seem interested only in laying their eyes upon "dead stones" of history. Mansour and his staff relish the opportunity to be "living stones" for Christians searching for the heart of Israel.
Mansour's soulful disappointment reminds me of the flyover views we too often settle for when making pronouncements of other people's positions or circumstances. We may read an article, hear the scoop from a friend, see a hallway conversation and form opinions that we should know are simply a fly over.
We cannot possibly know the heart of the matter like those do who breathe and bleed it. Like the example of Botrus Mansour, it is often best to leave the acrid smoke of comments yearning to be delivered simply swirling in the cannister.
To read Jameson's "Modern Israel builds tourism future on historic magnets" visit
http://www.biblicalrecorder.org/content/news/2008/01_25_2008/ne25012008modern.shtml