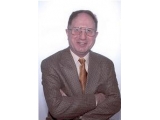 Who are the people of God after the advent of Christ the Savior? And are there now two sets of people of God, one heavenly, which is the church, and one earthly, which is Israel, as some contend? This book answers these and other related important questions. The approach the author adopted to address all the aspects of this crucial subject, was to explain in detail Chapters 9 through 11 of Paul's Epistle to the Romans, which are being misunderstood and misinterpreted by many, and also Chapters 3 and 4 of Paul's Epistle to the Galatians. Thus the author showed very clearly that after the advent of Christ, there are no two sets of people of God, but only a new one, one olive tree, which inherited all God's promises. He also demonstrated that there is no more any difference between one human being and another - particularly that the separation between Jews and Gentiles is finished for ever - and that there are no more special promises for the old people.

The author also explained some of Christ's parables pertaining to the Kingdom of God and clarified that the Lord Jesus Christ, through His Advent, fulfilled all the prophesies and God's promises in the Old Testament and proclaimed the beginning of God's Kingdom.

The book further includes a series of thorough articles that the author had published earlier, through which he explains many of the New Testament concepts and the way they relate to the Old Testament, as well as the concepts of the First Advent of Christ and the start of Christianity. He concurrently exposed many of the widely spread wrong theories, particularly those related to the dispensational interpretation and the secret rapture theory.

This book is intended for all those who wish to research and thoroughly study the word of God, and want to know the truth about these important issues.

Hasten to reserve your copy of this book at the Manarah Bookstore in Jordan.