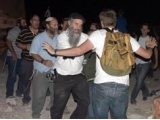 The city council of Beit Sahour is planning to build a children hospital in the site in cooperation with intentional organization CURE. However, the Israeli army imposed a military order on the designated area and the settlers started to frequently plan activities on the site and claimed that the land belongs to them and that they want to built a settlement on this land.
The worshippers raised their prayers for the sake of the children of Bethlehem in order to have the planned hospital built.
The settlers, who come from the neighboring illegal settlements of Har Homa and Efrat and others in the Bethlehem area, erased murals that some Palestinian and international activists had made a week ago and wrote some racist graffiti, calling for the death of Arabs.
Ush Ghrab was occupied by the Israeli army in 1967 and was used as a military base. In 2006 the army abandoned the site and the city council in Beit Sahour rehabiliatated the site and turned part of it into a public park, and had a plan to build a hospital on the rest of it, in addition to some other facilities that would server the local community in Bethlehem.