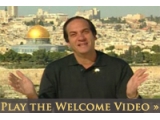 According to the tax return, the IFCJ raised $75 million in 2007, out of which it distributed some $42 million in donations to various programs and paid $30 million in wages and administrative expenses. The IFCJ finances a variety of charity projects, including aid to poor and elderly Jews in both Israel and the Diaspora.
For years, the organization drew fire for allegedly helping missionary groups. Nevertheless, Eckstein managed to use the contributions he raised to turn his organization into a strategic partner of the Jewish Agency.
An IFCJ spokesman in Chicago told Haaretz: "Rabbi Eckstein's wages were just a little more than $400,000. Another sum of $400,000 was put into a pension fund for him, because until now, no pension allocations had been made for him. In light of this, his salary is reasonable for an American charity of this magnitude. We have an independent board of trustees that sets Rabbi Eckstein's wages according to the accepted norms for large Jewish organizations in the U.S."