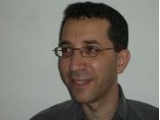 Dear Messianic Brothers and Sisters:
What do you think of what is going on in Gaza? I've been watching a real horror movie on my small television. Hundreds of people are dead and many are injured. Blood is spilled everywhere! I've read the newspapers and understand the different political views but I am concerned about the wedge that the war against Gaza might create between us.
Your response is not only a political concern but it is also a theological one. How should we Palestinian and Israeli followers of the son of God perceive what some call the "war against Gaza" and others call a "massacre"? ٍShould we be limited to the political terms: liberation from occupation, retaliation, just punishment, etc; or should we create our own language to describe a situation that breaks God's heart? How can we express God's love and justice in the midst of war and bloodshed? How do you reconcile the death of hundreds of Palestinians in Gaza by Israeli hands and then shake our hands when we fellowship in our meetings? Frankly, it is hard to accept the perception that we can be political enemies but religious brothers and sisters especially when the word "enemies" entails "approving" the death and injury of hundreds of people, including innocent children. We cannot justify hurting some innocent people in Ashdod or destroying hundreds of Palestinians and injuring over a thousand people in Gaza. Many of them are children. There are surely better ways to resolve the pertinent issues.
Moreover, it seems to me that our relationship with the son of God must transform our political perceptions in a way that will make us more critical of the policies of our governments, more vocal of our support of divine mercy, love, and justice. Our connection with the Kingdom of God must lead us to the path of love not the bloodshed of children or adults. Please make no mistake; I am against killing any innocent people whether they are Israelis or Palestinians. But I want to hear from you. Your silence is loud and I am hoping that I misunderstood you. What do you think and what are you going to tell me next time when we meet?
I challenge you during these harsh times to consider not only your responsibility before your country but also your responsibility before the Lord, before the people of Gaza, and before the Palestinian church. I challenge you to adopt a theology of peace rather than justify a theology of war. Will your relationship with the prince of peace make your response different from the Israeli army in Gaza? If not then how will you look me in the eyes next time we meet and shake my hands while the hands of your army are still wet with the blood of my people!? As for me, I cannot accept spilling innocent blood on any side, but what about you? How can the Messiah bring us together if you are supporting the continuation of bloodshed to my people?
Rev. Yohanna Katanacho, Ph.D.
Academic Dean of Bethlehem Bible College