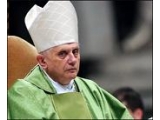 Pope Benedict has spoken frequently about the pressures faced by Christian and Catholic minorities in the Middle East, particularly in the Holy Land and in Iraq. The synod would provide an opportunity for a much-needed strategizing session at the level of the universal church, one source said.
The Vatican press office would not confirm reports of a Middle East synod, but it released the names of 11patriarchs and other representatives meeting the pope Sept. 19 at his summer residence in Castel Gandolfo.
They included the Chaldean patriarch, Cardinal Emmanuel-Karim Delly of Baghdad, Iraq; Latin Patriarch Fouad Twal of Jerusalem; the Lebanon-based Maronite patriarch, Cardinal Nasrallah P. Sfeir; and representatives of the Ukrainian, Syro-Malabar, Coptic, Melkite, Syrian, Armenian, Romanian and Syro-Malankar rites.
Last January, Chaldean Archbishop Louis Sako of Kirkuk, Iraq, and other Iraqi bishops in Rome for their "ad limina" visits asked the pope to convene a special synod for the churches of the Middle East.
Archbishop Sako said the priority topics for such a synod would include the problem of Christians fleeing the Middle East, paying Christian witness in a predominantly Muslim world, relations with Muslims, the role of Christians in civil and political life, lack of full religious freedom and Christians' prospects for the future.
Bishop Maroun Lahham of Tunis, Tunisia, a Jordanian native of Palestinian parentage, told Catholic News Service earlier this year that when the church discusses Asia -- as it did in a 1998 synod for that region -- "it's the Philippines, India, Japan, not the Middle East."
Bishops Lahham, who worked as a priest in the Latin Patriarchate of Jerusalem as well as in the United Arab Emirates, said while the Middle East is technically part of the Asian land mass, "the issues ... were very unlike those" in typically Asian countries.
"We didn't feel (the Asian synod) was meant for us," said the bishop, who was head of the seminary in Beit Jalla, West Bank, at the time.