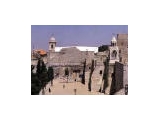 The events that triggered the protests took place on the Coptic Christmas. A gunman opened fire on a crowd of worshipers leaving midnight mass in the ancient city of Nag Hammadi. Seven Copts were killed, most instantly. At least another six were wounded.
According to many press reports, the killings were in retaliation for the "alleged sexual assault of a Muslim girl by a Christian man, in November."
That, of course, doesn't take into account the five days of looting and burning of Coptic homes and businesses immediately following the alleged assault.
Those who are familiar with the plight of Egyptian Christians know that violence and repression are part and parcel of their lives.
In 2006, five Copts were stabbed, one fatally, while leaving Good Friday services in Alexandria. This was part of a larger assault against Christians at four different churches that left several Coptic Christians dead and at least 17 wounded.
At CBS noted at the time, the Egyptian government has a history of playing down violence against its Christian population.
It's far from alone in that respect: in his 57-minute address at Cairo University, president Obama never uttered the word "Copt" and only mentioned religious freedom—specifically, the lack of it—in passing.
Then there's the media.
In its reports on the Nag Hammadi killings and their aftermath, the Associated Press called the killings the product of "sectarian strains."
Well! To say Coptic Christians have "strained" relationships with their Muslim neighbors is like saying a nail has a strained relationship with a hammer. Copts are second-class citizens in the land they have occupied since time immemorial.
Besides being the targets of periodic violence, they are discriminated against in employment and what the AP calls "church construction disputes." Those so-called disputes are, in fact, "severe restrictions" on the building or repairing of their churches.
This lack of attention to the plight of Christians is Islamic lands isn't limited to Egypt.
At the same time the media convulsed over the Swiss ban on minarets, the Malaysian government banned and seized Bibles. Why? Because they used the word "Allah," which is Malay for "God."
It didn't stop there.
The Malaysian government banned Catholic newspapers from using the word as well. The government position was that only Muslims could use the word. After Malaysia's high court ruled that the ban was unconstitutional, Muslim extremists took a more-direct approach: They started setting churches on fire.
The story has been covered in the foreign media, but Americans might be hard-pressed to know how difficult things are for our brethren living in Muslim lands. That's because, as CNN's William Schneider put it, "the press just...doesn't get religion."
That leaves many Christians, in Egypt and elsewhere, unprotected and unnoticed.
Call it adding insult to injury.