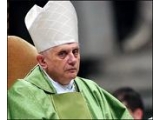 Synod organizer Monsignor Nikola Eterovic said about 150 bishops, most of them from Eastern rite churches, are expected to attend the meeting, which follows a 2009 Vatican meeting of bishops on Africa.
The meeting document made clear that bishops in the Middle East believe the Israeli-Palestinian conflict to be the root cause of several conflicts in the region. But it also singled out the growth of political Islam in countries like Egypt, and said the decades-old Israeli-Palestinian conflict had been exploited by radical terrorism in recent years.
In Iraq, the war has unleashed evil forces within the country, religious confessions and political movements, making all Iraqis victims, it said. However, because Christians represent the smallest and weakest part of Iraqi communities, they are among the principal victims, with world politics taking no notice.
It criticized the Israeli occupation of Palestinian lands, saying it had made life difficult both for daily life and religious life since access to holy places are restricted.
Citing both the Israeli-Palestinian and Iraqi conflicts, it said: "The solution to conflicts rests in the hands of the stronger country in its occupying and inflicting wars on another country."
"Violence is in the hands of the strong and weak alike, the latter resorting to whatever violence is within reach in order to be free," it said.
Asked at a news conference if the document was referring specifically to Israeli settlements in the West Bank and construction in East Jerusalem, Eterovic said the Vatican wasn't making policy decisions or recommendations in the document.
But he noted that the paper was drafted by the bishops of the region, who know the situation well and that regardless the Vatican adheres to UN Security Council resolutions on the matter. The Security Council has endorsed the Mideast Road Map which calls for an independent Palestinian state alongside a secure Israel and a freeze on all Israeli settlement activity.
Israel said in November that construction in West Bank settlements would slow down for 10 months, but that building in east Jerusalem would proceed without restrictions.
Eterovic said there are currently about 17 million Christians from Iran to Egypt, and that while many Christians have fled, new Catholic immigrants - mostly from the Philippines, India and Pakistan - have arrived in recent years in Arab countries to work as domestic or manual laborers, bolstering the church's numbers in areas where there had previously been little or no Christian presence.