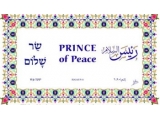 Churches for Middle East Peace launched a year-long project during the first week of Advent to engage Christians in public-policy advocacy for Israeli-Palestinian peace.
The effort, dubbed For the Peace of Jerusalem, begins with a call to 24 national denominations and church organizations to urge members to send cards designed by a Palestinian Christian that includes the Bible verse, "Blessed are the peacemakers, for they will be called children of God" (Matt. 5:9).
A one-sentence message to the president says, "In this Christmas season we are praying for your work to bring peace with justice and security to Israelis and Palestinians."
"Our Christian faith calls on us to work and pray for peace," said Warren Clark, executive director of Churches for Middle East Peace. "Our government has a vital role to play in pursuing a just and lasting agreement for peace with security. In our democracy, each of us has an important role to play in working for that solution, regardless of our particular faith tradition."
Participating groups include the Alliance of Baptists. Formed in 1987, the association of 130 churches and 2,000 individual members is a member of Churches for Middle East Peace, a coalition of 24 groups from Catholic, Orthodox and Protestant traditions. Bob Tiller, an Alliance member from Silver Spring, Md., sits on the CMEP board of directors.
Alliance of Baptists president Carol Blythe said her organization will be promoting the Christmas-cards-for-peace project this December. She said a new Alliance "Community for Justice in Palestine and Israel" is also in the initial phases of forming. A face-to-face organizational meeting is scheduled at the Alliance's 2011 convocation April 29-May 1 in Louisville, Ky.
The Palestinian/Israeli group is one of 12 "communities" formed at this year's convocation to allow Alliance members who feel called to organize for ministry and action on a particular ministry or area of interest. The group hopes to raise awareness of the current Mideast situation by sponsoring pilgrimages to the Holy Land, networking with other faith groups and advocating for peace and justice with policy makers.
Churches for Middle East Peace advocate a negotiated peace agreement that ensures security for Israel while creating a viable Palestinian state and a shared Jerusalem open to Christians, Jews and Muslims. Known as the "two-state solution," the policy was the centerpiece of President George W. Bush's "Roadmap for Peace" in the Middle East.
President Obama has adopted the approach and is trying to kickstart Israeli-Palestinian peace talks stalled over the building of Israeli settlements in West Bank areas the Palestinians want for a future state. Israel blames the Palestinians for the impasse, saying Prime Minister Benjamin Netanyahu is sincerely interested in reaching a pact after talks are resumed.
The For the Peace of Jerusalem campaign also comes at a time when there is grave concern about the decline in the indigenous Christian population in the Holy Land and elsewhere in the region.
Christian emigration from the Holy Land has been going on since the late 19th century, as Christian families seeking economic opportunity and political stability have left the region to establish themselves in the West. The stream of Palestinian Christians has escalated in recent decades to the point that some fear there may be a time when there is no viable Christian presence in the land where Jesus was born.
A Vatican memo this year blamed conflict and the Israeli occupation for driving Arab Christians out of the Middle East.