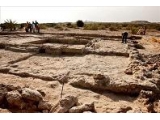 A multi-building compound on the eastern side of the island, the site is the only known pre-Islamic Christian site in the United Arab Emirates. According to Archaeology Daily, the complex includes monks' cells, kitchens and animal pens surrounding a courtyard dominated by a church. At least eight houses have been unearthed.
The monastery is believed to have been an important destination for pilgrims traveling along a trade route to India.
"Twenty years ago, we had no idea that Christians came this far south and east" in the Persian Gulf region, commented Dr. Joseph Elders, the archaeological director of the excavation project. "This shows that Christianity had penetrated far further than we thought before ... We don't have many monasteries from this period."
Pilgrims could pray or leave gifts in a separate visitors' room within the monastery complex itself. The church was built around the grave of the one body found at the site. Researchers said the body might have belonged to the saint who founded the monastery.
Peter Hellyer, the excavation's project manager, said the site was "fascinating and really important."
"It explains a lot more about the heritage of this country. Most people wouldn't know that history, that there was Christianity here before Islam," he added.
Christianity spread throughout the Persian Gulf between 50 and 350 A.D. The inhabitants of the settlement were probably part of the Nestorian Church, also known as the Church of the East. Nestorianism denied Mary the title of "Theotokos" or "Mother of God" and was considered heretical by the orthodox Christian Church because of related beliefs about the nature of the person of Jesus Christ.
The community at Sir Bani Yas Island was made up of a mixture of people from along the Gulf and local residents who spoke Syriac and Arabic. Artifacts at the site suggest the monks had ties to the regions of modern-day Iraq, India and Bahrain.
The settlement appears to have been peacefully abandoned in about 750. The spread of Islamic influence probably diminished the monks' ability to find new recruits, Archaeology Daily suggested.
Sheikh Sultan bin Tahnoun Al Nahyan, the chairman of the UAE's Tourism Development and Investment Company, said they were "delighted" to open the ancient site to the public.
"We are proud of our heritage and are therefore focused on creating a multi-experience tourism destination where guests are able to enjoy a variety of activities, while protecting and preserving the history and culture of our country, as well as the natural environment of the island."
Dr. Elders, who is also chief archaeologist for the Church of England, noted that the settlement continued to operate even after the spread of Islam.
"That the monastery continued for at least a century after the arrival of Islam shows that tolerance of the Muslims quite close to their heartland," he said. "We know that there are stories of everyone living in harmony."