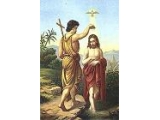 Israel has decided to develop the traditional site of Jesus' baptism along the Jordan River for tourism and clear mines from what is now a closed military zone, the Tourism Ministry said Tuesday. An abandoned monastery at the Qasr al-Yahud site, near the Palestinian town of Jericho in the West Bank, will be returned to the Greek Orthodox Church, the ministry said.
Jordan has also developed a rival baptismal site on the eastern banks of the Jordan River, called Bethany, and a friendly rivalry has ensued. Bethany is open to visitors all year round, while pilgrims to the Israeli-controlled site need special permission from the Israeli army, drastically keeping down the crowds.
The access road to Qasr al-Yahud is flanked by mine fields. Last year, Pope John Paul II visited Qasr al-Yahud as part of his pilgrimage to the Holy Land. Israel spent 500,000 dollars to spruce up the area where tradition says John the Baptist anointed Jesus.
The Tourism Ministry did not say when the mine clearing would begin, and the army said it had not yet received the detailed plans. The Greek Orthodox Church said it welcomed Israel's decision. Under the plan, monks will be allowed to return to a monastery that was abandoned in 1972.