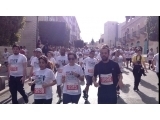 On March 27th, I participated in the Palestine Marathon that took place in Bethlehem. It was the third annual race that has been taking place each year since 2013. When I first heard about the marathon, I was not into running at all. However, I was very much drawn into the cause, which pushed me to take interest.
"Everyone has the right to freedom of movement, but not everyone has the option. Restriction on movement is one of the major challenges for the Palestinian people living under occupation. Palestinians cannot move freely on roads, or from one city to another. The Palestinians right to movement is controlled by their ID, permits, which city they live in, or who they are married to. Ever been through Qalandia? Then you know why we do this! We cannot even find the 42,195 KMs needed for a marathon. This is why we do it."
I started training with a friend who had more experience in running, and soon enough I starting liking this sport and, more importantly, my desire to participate in the marathon became possible. Soon enough, we multiplied into a group of friends that trained once a week in Jerusalem. We shared much physical pain and blisters, but we were willing to get in shape to be able to participate. We wanted to train just enough to finish the 10k race. We are a group of Christian men and women who wanted to take part in this non-violent project that brings attention to the restriction of movement upon our brothers and sisters in the West Bank and Gaza.
The first year, there were almost 500 participants, and this year there were more than 3,000 participants, both local and from all over the world. The idea began with two Danish ladies, and George Zeidan, a Christian Palestinian from East Jerusalem who wanted to do a marathon in Bethlehem. Their first challenge was to find a 42km route in Bethlehem that they could run. The race begins in the Manger Square and continues along Bethlehem road, into two refugee camps, Al khader and then back. As you run around, you are faced with the separation wall and the refugees carrying on with their lives. People come out to the streets or look out the windows cheering (or just staring) at you.
Sport is not a common hobby for many Palestinians, and to see Palestinian men and women from all age groups and backgrounds come together for such an event is inspiring. There were some Palestinian Evangelicals who participated too. There have even been a few pastors and leaders who took part in the race, and I think that is very encouraging. I was very moved when I saw two Palestinian ladies in wheelchairs joining in the race. It didn't matter that they were physically confined or limited, they too wanted to raise awareness about their right to movement.
As a Christian and a Palestinian, I am compelled to carry the burden of my brothers and sisters who are suffering from collective injustices. Yes, I too suffer discrimination as an Arab citizen in Israel, but that should not stop me from expressing Christ's love and care to those around me. I encourage you to take part in this race next year, and if you don't think you can physically do it, train with a friend or two and it will be possible.