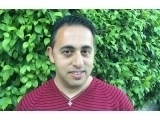 Daniel Aqleh, a Palestinian MA student in Peace Studies. He writes his dream as part of course about Peace in Christianity at Bethlehem Bible College, by Dr. Yohanna Katanacho. After Dr. Katanacho shared
his dream
with his students, he
asked them to share their own dreams. The following is Daniel's dream:
I have a dream when all people in the Middle East are equal and everyone can go from Palestine to Israel to Jordan, then Syria and Iraq and come back without a passport.
I have a dream for Palestine and Israel, that all people living here can live with freedom of movement, and that no person's background or location will determine their citizenship.
I have a dream where all Palestinians have their human rights respected, and where Israelis travel throughout Palestine freely to visit and interact with Palestinians.
I have a dream where justice is applied for Palestinians and security for Israelis.
I have a dream.
I dream that priests, imams and rabbis can gather for hummus and falafel, celebrating peace in Palestine and Israel.
I dream of a world without wars or killing, with people from all nations living in harmony.
I dream of a culture of peace that rolls through every culture, where every human is respected and acknowledged by all. May God rain His peace on the whole human race. May all come to the full knowledge of God Almighty.