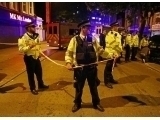 Regardless of the history of Finsbury Park Mosque, revenge is not a Christian option. The recent terror attack on Muslim worshipers is nauseating. A London van hits pedestrians near the Finsbury Park Mosque in the early hours of Monday morning when mainly Muslim worshipers were present. Admittedly, this mosque has been associated with many forms of terrorism and has been led by condemned terrorists such as Abu Hamza Al-Masri. Nevertheless, killing civilian citizens from other faith communities is not the answer. It is a clear expression of Islamophobia and a failure of advocating social peace in London. I strongly condemn such terrorist activities and call for a wise response from all people of faith.
It is time to reflect on the power of religion in shaping our communities. Faith and Politics must meet again. Sociology and Theology must be in the same class. Although this issue is extremely important, I will focus the rest of this short essay on few urgent points instead of focusing on the long term important points.
First, all faith community leaders must condemn killing innocent civilians publicly and loudly. The events in the Middle East against Christian minorities are motivated by Christophobia while the recent event in London is motivated by Islamophobia. Both phobias are evil.
Second, we must show mercy to all people who are in need. I call upon Christian churches in London to help the afflicted community in Finbury Park Mosque. It will be helpful to make this help not only visible but also tangible on the internet.
Third, we must work on peacemaking not only with other faith communities but within our faith communities. Blessed are the peacemakers. Let us be agents of peace in the midst of trouble.
Fourth, we must address anger. Augustine spoke about the silent internal anger, the audible anger, and anger that becomes bitterness. An ongoing anger will develop into hatred. Stereotyping, demonizing, Christophobia, Islamophobia, and antisemitism are all expression of hatred.
The answer is simply love. Love is much more than a feeling. It is a decision. It is a worldview. It is creating a new civilization of equality, justice, mercy, and righteousness. It starts with small decisions recognizing that we are all sons of Adam and daughters of Eve. The path of hatred is dehumanization but the path of love is humanization. The path of hatred is satanic but the path of love is divine!
My prayers and sympathies are with all the people who are hurt in London regardless of their faith. I, as a Christian, love my Muslim and Jewish neighbors. I pray for God's mercy on all of us. Without such mercy the future is very dim but when the merciful God is present in our midst there is hope.
Rev. Professor Yohanna Katanacho, Ph.D.