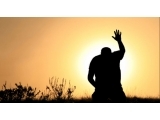 Murdering Jews is pure evil that is rooted in hatred. This hatred was clearly embodied in the recent attack against the tree of life synagogue in Pittsburgh. The attack is a crime against God, against all people of faith, and against religious freedom. It is an embodiment of oppression and violence.
Sadly, 11 Jewish people were brutally murdered in Pittsburgh. I as a Christian Palestinian not only condemn this crime but also pray and hope that all Jews all over the world would be able to live in security and dignity. May God comfort all those who are hurt. For all of my Jewish friends, please accept our condolences. We cry with you for your loss. It is also our loss as well.
In these difficult circumstances, let us pray for:
1. The families and relatives of all those who were murdered at Pittsburgh.
2. The quick recovery of all the ones who were injured.
3. The end of violence against all houses of worship including synagogues.
4. The increase of the love of neighbor instead of hatred.
5. The end of stereotyping, marginalizing, or demonizing Jews or any other group.
6. The spread of a healthy and godly grief over the loss of life, loss of peace, loss of security for Jews in Pittsburgh.
7. The growth of a godly anger against all forms of terrorism and the dominance of a godly love in our hearts for the pursuit of justice and mercy.
8. The enemies, the terrorists, the evil doers that they will discover the love and mercy of God through our love and holy tears. This includes Robert Bowers who attacked the synagogue.
9. The needed wisdom for taking active and effective steps against the spread of Antisemitism.
10. Fighting evil with good, not with fear, exclusion, or building higher walls around our communities.
11. The empowerment of the Jewish communities and the increase of their determination to be agents of justice, mercy, and righteousness in all of their communities.
12. The failure of all attempts to employ the Pittsburgh events to promote hatred or to abuse the pain of the oppressed in order to spread specific political agendas.
We condemn this evil crime and lift our prayers for peace in our hearts, in our streets, in our dreams, and in all the streets of Pittsburgh. May God have mercy!