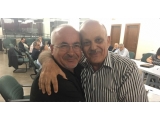 Amman- The general assembly of the Jordan Evangelical Council chose reverend Habes Nimat as their new president for the coming three years. He replaces retired general Imad Mayyah who presided over the council during the past seven years.
The election held at the Evangelical Free Church in Khalda, Amman, Wednesday, was preceded by a narrative and financial report. David Rihani gave a twenty-point report of previous activities of the council that represents five evangelical churches in Jordan. The report referred to the leadership role the council had in unifying the Jordanian council with evangelical councils in the holy land. It also referred to the letter sent by the council to President Trump urging him not to move the U.S. embassy to Jerusalem and to "listen to the wisdom of King Abdullah." The report included various, local, regional and international visits and meetings including the meeting with the heads of Christian Churches held under the auspices of the Jordan Bible Society.
President-elect Nimat from the Christian Alliance Church and the founder of the Alliance Academy in Yadouda, outlined his vision for the council to give priority to practical service and to unify the evangelical effort. Nimat expressed support to the cooperation with Palestinian evangelicals describing that as "an honor" for the Jordanian council. He also stressed the need to build strong relations with all Christian denominations. "We have a loving relationship and we are open to all. We extend our hands to them and hope that they will respond positively to us." Reverend Habes Nimat concluded by stressing the importance of "good citizenship" and the need to work with all social and governmental agencies noting that "we serve God and we obey the authorities as God has commanded us."
An administrative committee was also elected that includes: Rev. David Rihani as vice president, Rev. Hani Nuqul as treasurer, Daoud Kuttab as secretary, Rev. Ghaleb Kawar, Rev. Nabeeh Abbassi, and Rev. Waleed Madanat as members.
The council honored the outgoing president retired general Imad Mayah for his seven years in service. Fawaz Shariha presented a plaque in appreciation for his service.
Evangelical churches have been working in Jordan since the early twentieth century but have yet to get official approval to set up a church court in accordance with the law like other denominations.
The Jordan Evangelical Council was established in 2006. It is made up of the Baptist Church, Assemblies of God, Evangelical Free Church, Nazarene Evangelical Church, and the Alliance Evangelical Church.
Evangelical churches also provide social services in the areas of education, health, humanitarian support, refugee aid, prison visits, and senior citizen support.