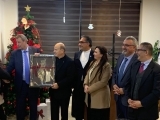 Following is the Speech of Rev. Dr. Munir Kakish celebrating the Palestinian Presidential Decree for recognizing the Council of Evangelical Churches in the Holy Land. The Speech was given in Arabic on Dec 15, 2019. It was given in the presence of official representatives from the Palestinian Authority. The aforementioned council represents Palestinian Evangelical Churches and para church organizations in the Palestinian territories.
Brothers and Sisters:
In my name and the names of the members of the Council of Evangelical Churches in the Holy Land (CECHL), I welcome all of you. You are at home in the midst of your brothers who are actively working in spiritual, pastoral, educational, and social circles. We have lived together in very difficult situations and have been faithful in serving our people as well as our country, Palestine.
First, I thank our God, the Lord Jesus Christ, whose birth is the reason for our celebration in these blessed days. We can now say: the Lord has helped us and has led us to this moment. I also express my deep gratitude to his Eminence President Mahmoud Abbas. He signed the presidential decree that recognizes our CECHL. The Council of Evangelical Churches in the Holy Land is now a legal entity that has all the civil rights according to the Palestinian law. The Palestinian state is thus a pioneer in our region for they have granted religious and civil freedom to all Palestinian citizens without discrimination. I further thank Dr. Ramzi Khoury [President of Higher Presidential Committee of Churches Affairs in Palestine] for his help. He helped us to address all the obstacles and concerns. Such help made it possible for us to turn our dream for recognition into a reality. I, moreover, thank his Eminence Prime Minister Mohammad Shtayyeh who met us and approved issuing the presidential decree. Further, Dr. Saeb Erekat, Ambassador Issa Kassissieh, Ms. Amira Hanania, Mr. Bassem Badra, and others have contributed to making this dream a reality. We thank them for helping us in getting this historic decree for all the Evangelical Churches and parachurch organizations in Palestine. Also, I shall not forget to thank my brothers, the members of our foundation and its council. They have worked sacrificially for many years.
My beloved brothers and sisters, allow me to present a brief background for the events that led to issuing this historic presidential decree. Since the coming of the Palestinian Authority in 1994, local evangelical churches discussed the need for uniting as evangelicals. Then in 1997 we decided to establish the Council of Evangelical Churches. We met and wrote our constitution. The members of our foundation were pastors from whom we elected a council as well as our first president; Bishop Naim Khoury. Since that time we have been working hard in serving our churches and organizations. In 2007, I became the president of the council. I wholeheartedly worked for our official recognition in Palestine. The Palestinian authorities have asked for many things. We have fulfilled all of them and provided all the necessary documents. We have met several times with the president of the Higher Presidential Committee of Churches Affairs in Palestine (HCC). At first, the president of HCC was Hanna 'Amira. We strived to clarify our position. We succeeded in reaching a decision and in writing together the presidential decree. However, new obstacles appeared and we sought to iron out some difficulties and miscommunications. In 2019, we met with Dr. Ramzi Khoury who became the new president of HCC. We also met Ambassador Issa Kassissieh, and Ms. Amira Hanania. Dr. Ramzi promised us to resolve the difficulties and he kept his promise. Then we met with Prime Minister, Dr. Mohammad Shtayyeh, who supported our quest in seeking the signature of his Eminence President Mahmoud Abbas. Indeed, we received his signature on the presidential decree on November 3, 2019.
Beloved brothers and sisters, allow me now to point out where we stand as a council [CECHL]. We want to affirm to everyone that we are faithful to our country and to our Palestinian national concerns. We affirm the following:
1. Our council consists of a number of Evangelical Churches and parachurch organizations which are located in Palestinian Lands, i.e., East Jerusalem, West Bank, and the Gaza Strip.
2. The establishment of the first Evangelical Church in Palestine is older than a century. We continue to offer our spiritual, academic, social, educational, and economical services to a growing number of Palestinian people. Our churches are also growing in numbers and in serving.
3. Our churches and organizations are actively offering prayers and supplications to the almighty God. We pray for our Palestinian leadership supporting its peaceful ideology and seeking together Palestinian independence and the establishment of a Palestinian State with East Jerusalem as its capital.
4. As Evangelical Churches committed to our nation, we refuse the concepts and doctrines of Zionism. We refuse bigotry against our Palestinian people. Such bigotry is founded on radical conceptual frameworks.
5. As Evangelical Churches, we support justice, peace and the vindication of our Palestinian people. We refuse oppression, dictatorship, and bigotry. We call for peaceful coexistence with our neighbors.
6. We affirm that the Israeli settlements are established on occupied Palestinian lands. Thus they are violating the international law and are an obstacle for peace. We refuse the current American support for the settlements.
7. We work with an increasing diligence seeking to communicate truthfully what is happening in our country. We seek to inform the world through books, articles, and other publications. We also hold conferences and participate in local as well as international gatherings for the sake of communicating the Palestinian Evangelical voice which is empowered by the words of Christ: "Blessed are the Peacemakers".
8. We the CECHL look forward to cooperating and collaborating with the Palestinian Authority as well as all other Christian denominations.
Our pastors continue to pray for His Eminence President Mahmoud Abbas. May God grant him many more years! We also pray for Palestinian leaders that God will endow them with wisdom and health. I end by saying, let us all unite in making our nation a better people. We say with the baby born in Bethlehem: Blessed are the Peacemakers for they shall be called the children of God (cf. Matt 5: 9). We sing praising God and saying: Glory to God in the highest, and on earth peace to those on whom his favor rests (Luke 2: 13-14).
President of CECHL, Rev. Dr. Munir Kakish
Members: Dr. Bishara Awad, Rev. Nihad Salman, Rev. 'Abd Allah Khoury, Rev. Khader Khoury, Rev. Majdi Anwar, Rev. Dr. Jack Sara