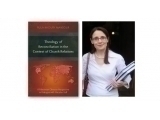 Rula, Khoury Mansour. Theology of Reconciliation in the Context of Church Relations: A Palestinian Christian Perspective in Dialogue with Miroslav Volf. Carlisle: Langham Monographs, 2020.
Christians are called to be peacemakers in a world rife with conflict, but how should Christians respond when the source of strife is not outside the church but within it? Built on an in-depth analysis of three Palestinian church splits, Rula Khoury Mansour examines the cultural and theological implications of intra-church conflict in Arab evangelical communities in Israel. Translating Miroslav Volf's formative theology of reconciliation into her contemporary Palestinian context, she provides a critical evaluation of both Volf's theory and Palestinian peacemaking models. Through her research and analysis, Dr Mansour develops a Middle Eastern theology of reconciliation and encourages congregations around the world to develop greater cultural and theological awareness in their quest to experience lasting peace within their churches and wider communities.
See what renowned theologians and scholars wrote about this book:
This is an innovative and compelling book on conflict and reconciliation in church. It is based on close ethnographic research and careful theological analysis, and its author has extensive experience both as a public prosecutor and an active church member. A unique and exemplary book.
Miroslav Volf, Dr Theol Habil, Henry B. Wright Professor of Theology, Yale Divinity School, Connecticut, USA Founder and Director, Yale Center for Faith and Culture
The theology of Croatian thinker Miroslav Volf is reaching a high level of recognition and acceptance among Christian theologians in different parts of the world. Volf's theology is in a way biblical reflection on practice by a Christian who has experienced the conflicts of the break of a nation followed by a cruel war. This book by Palestinian evangelical Rula Khoury Mansour is a valuable effort of an insider researcher to use Volf's theology as a frame of reference in order to understand church conflicts in her country and respond to them from a pastoral and contextual perspective. Here we have a helpful analysis of internal church conflicts within an ethnically and socially conflictive situation and also a pastoral response based on a relevant theological proposal. I hope that Dr Khoury Mansour's methodology and conclusions will inspire similar efforts to understand conflicts and respond pastorally to them in other conflictive areas of the world today.
Samuel Escobar, PhD, Emeritus Professor of Missiology, Palmer Theological Seminary
In 1996 Miroslav Volf in his book Exclusion and Embrace: A Theological Exploration of Identity, Otherness, and Reconciliation offered the church a good service by calling it to understand the metaphor of salvation as reconciliation. In reality, it is God's call to the church to realize its task to be an agent of peace and reconciliation as it serves in the midst of fragmented societies. Dr Khoury Mansour has taken that call forward to apply it to a complicated Middle Eastern context where splits and strife are, unfortunately, part of our daily life. She approaches the topic not just with deep sociological and theological interaction but also with much compassion and sensitivity. Her arguments and conclusions will prove to be helpful and applicable beyond the Middle Eastern context. This monograph is a must-read to all who are interested in effectively contributing to human flourishing in which peace and reconciliation play such a pivotal role. I am also delighted that Dr Khoury Mansour is the first female Langham Graduate from the MENA region, and I am hoping that she will be the first among many female scholars to follow her steps in the near future.
Riad Kassis, PhD, Director, Langham Scholars
In this work, Dr Khoury Mansour joins a plethora of gifted women theologians whose impact is glocal. She honors the Prince of Peace in his homeland as she addresses church conflicts among Palestinian Baptist churches in the Holy Land. In the footsteps of Jesus of Nazareth she masterfully provides an inspiring and challenging theology of reconciliation engaging both Palestinian culture as well as the theology of Miroslav Volf. Her theoretical and practical insights combine western and eastern discussions into an informative, inspiring, and challenging discourse that calls us to be a community of forgivers and agents of reconciliation. I strongly recommend this book for pastors and theologians, as well as readers interested in reconciliation.
Rev Professor Yohanna Katanacho, PhD, Academic Dean, Nazareth Evangelical College.
In this original book, Dr Khoury Mansour presents a composite, culturally sensitive model of conflict transformation. She gives an extensive ethnographic documentation of one case study – the Palestinian Baptist churches, who suffer from recurring splits – alongside close examination of three models of conflict resolution that have direct bearing to it – theological, cultural, and legal-secular. She then turns to do a cultural translation of Volf's theological model by using core elements from the other two, to make it relevant to the context at hand. Beyond the thick, multi-layered analysis of one particular intra-church conflict, this book provides an important inspiration to those seeking to promote peace and reconciliation within and across communities.
Amalia Sa'ar, PhD, Associate Professor of Anthropology, University of Haifa.
Rula Khoury Mansour is a Palestinian evangelical lawyer and theologian. She holds a PhD in Peace Studies and Theology from the Oxford Centre for Mission Studies, UK, which was completed under the supervision of Prof. Miroslav Volf. She serves as the Director of Peace Studies at Nazareth Evangelical College, Israel, as well as a lecturer in the PhD Peace program at the International Graduate School of Leadership, Quezon City, Philippines. Rula is a speaker locally and internationally, she lectures and consults churches and institutions on issues related to conflict and reconciliation. In addition, she has published a number of academic articles about forgiveness and the role of the church in peacemaking. Having earned her law degree from the Hebrew University of Jerusalem and Master of Arts in Conflict Resolution from Tel-Aviv University (graduated with Cum Laude), she worked as a public prosecutor for 13 years and was the very first Palestinian to be appointed deputy head of a public prosecution office in Israel. Rula and her husband, Bader, live in Nazareth with their three sons, Adi, Rami and Sami.
The book is available in print and digital format from www.amazon.com/Theology-Reconciliation-Context-Church-Relations/dp/178368772X