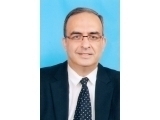 "He raises your sight and energizes you to think afresh; it is a must-read for everyone!"
Godfrey Yogarajah, Deputy Secretary-General, World Evangelical Alliance


"Simply fascinating"
Dr. Danny Sinquefield, Senior Pastor, Faith Baptist Church, Bartlett, Tennessee; author, speaker, and past President of the Tennessee Baptist Convention


"I have been blessed by reading these passages and I commend this book to you."
Dr. Gary Cook, Chancellor, Dallas Baptist University


..."he skillfully weaves together biblical concepts with contemporary practical issues that the global church is facing. It is an authentic voice out of Nazareth that is worth listening to."
Rev. Riad Kassis, PhD, International Director, Langham Scholars Ministry, Langham Partnership


"Botrus Mansour does not shy away from difficult questions but urges us to find faithful ways to live together, to combat religious and political fundamentalism, foster peace, justice, and reconciliation, and to retain our specific identities.
Bishop Dr. Munib Younan, Honorary President of Religions for Peace, Jerusalem


"Political and spiritual, challenging and warming, insightful and revealing"
David Kerrigan, Former General Director, Baptist Mission Society World Mission, UK


"Mansour's witty and thought-provoking book is a must-read for"
Brent McBurney, President & CEO, Advocates International


"It dives deep into topics such as racism, politics, love, faith, church, and community. "
Rev. Dr. Jeff Moes, Senior Pastor, Sunnybrook Church, Sioux City, Iowa


"Mansour writes for Christians who want to be global citizens."
Rev. Dr. Jack Sara, President, Bethlehem Bible College
"This is a fresh and thought-provoking perspective on the life of Jesus of Nazareth. You will love it"!
Rev. Ray Bentley ,Senior Pastor ,Maranatha Chapel, San Diego, US
"This collection of essays and devotional pieces comes from a genuine ambassador of reconciliation, encouraging not only"
individual reflection but motivating meaningful dialogue"
Dr. Nina Balmaceda, President, Peace and Hope International
Associate Teaching Professor of the Practice of Reconciliation
School of Divinity, Duke University


" News of the Gospel, but also how the realities of the Christian faith give us hope in the midst of oppression, injustice, and "brokenness in this world.
Rev. Dr. Mae Elise Cannon, executive director of Churches for Middle East Peace (CMEP), and author of several books including the most recent Beyond Hashtag Activism: Comprehensive Justice in a Complicated Age.  



You can pre-order the book that is supposed to released in mid-January 2021 from now in Amazon:

https://www.amazon.com/Looking-Precipice-Reflections-Palestinian-Evangelical/dp/1640606556