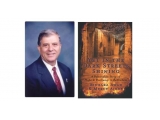 [Flagstaff, AZ, January 17, 2022]. Yet In the Dark Streets Shining details the little-known story of Palestinian Christians through the heartbreaking and yet inspiring account of a boy who grew up to be a spiritual and community leader in Bethlehem. Bishara Awad was just a child when his father was killed by a sniper during the Israeli-Arab war of 1948. After the family fled their Jerusalem home, Bishara and his siblings grew up as refugees. His spiritual journey brought him through poverty and danger, while witnessing loss and death. When Bishara learned how to forgive, he became a firebrand of faith and hope. Rising to the many challenges, he launched Bethlehem Bible College, the first Bible college in the West Bank. Seeking to build up his community through the dashed hopes of one war after another, as well as opposition on all sides, Bishara's story conveys how he and other Palestinian Christians continue to live their faith and envision a better future, while wrestling with these questions:
Is peace possible in Palestine and Israel?
How is the gospel of Jesus Christ making a difference in the land of Christ?
How do theologians in other parts of the world affect the lives of Christians in the Holy Land?
How does one stand for justice, while also preaching forgiveness?
A dramatic, dangerous, and deeply meaningful storyline that reads like a biographical thriller. Through the real-life personal story of Bishara Awad and his family, you will gain insight into the Middle East, its history, and its people, and I think you will also gain insight into current realities that affect you right now, wherever you live.
Brian D. McLaren, author of "Faith After Doubt"
This is a story that is as riveting as it is historically important.
Gary M. Burge, PhD, Calvin Theological Seminary; author of "Whose Land, Whose Promise?"
Evangelical Christians need to hear Bishara Awad's story.
Brian Zahnd, author of "Sinners in the Hands of a Loving God"
About the Authors:
Bishara Awad is widely recognized for his work in education and Christian leadership. The founder of Bethlehem Bible College in Bethlehem, Palestine, he served as president from 1979 to 2013. In 1999, he was the recipient of the Bob Pierce Award for Christian Service from World Vision. He was awarded Dakota Wesleyan University Alumnus of the Year in 1989 and in 2011 was awarded an Honory Doctorate of Humane Letters from DWU. Bishara was the chairman of Middle East Association for Theological Education from 2010-2018. He established the Bethlehem chapter of the Rotary Club International. He and his wife, Salwa, live in Beit Jala.
Mercy Aiken began volunteering with Bethlehem Bible College in the fall of 2015. She is passionate about sharing her experience there through writing and leading groups to the Holy Land. It is her hope that this story will inspire the global church towards the ministry of justice and reconciliation in Palestine/Israel and around the world. This is her first book.
Available at
Amazon
and other retailers: