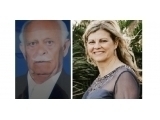 when I was but a boy
Cido, my grandfather, spoke of his days as a youngish man
long gone
unforgotten
he spoke of hurts and helps
and how Holy Spirit moved his heart
to pray, to live, to survive
slaps and threats of death
but was preserved
to preserve others
to come
when I was but a boy
Cido spoke of the wooded fringed
Bani boundary
near ancient Akko's Orthodox Church
where Cido worked and prayed in Greek
his life lived for the Lord
Cido remembers a brave bold boy
brazened upon horse's unbridled back
breaking open toward Bani's wooded banded boundary
unconcerned, naïve, ignorant
of the danger dangling
as hardened tree limbs
Cido ran out to save that boy
save his life
before tree's boughs could catch and
break him
limb by limb
break his neck
when I was but a boy in Nazareth
my Baptist Bible teacher told a tale
of how God spared his life
of how a man, a man unknown to him
rushed to stop his horse
before destruction came
my boyish hand I lifted
my boyish voice I spoke
"Teacher! Teacher!
That was my grandfather!"
today, at 60 years of age
I yet remember Cido
I remember my teacher
I remember that in Christ
we are God's children
we are one
Abdallah Ghattass is the maternal grandfather of Kelly Jadon's husband. He died in Ishfamer, lived in Bani, and worked in the Orthodox Church in Akko.
Kelly Jadon is the author of three books of poetry, including To Taste the Oil: The Flavor of Life in the Middle East (2014) and Remember: The Persecution of the Orthodox Church (Summer 2022). She has been recently published at Remember.org (a Holocaust repository), In Communion, and gave an oral memorial for Shireen Abu Akleh at St. George's Antiochian Orthodox Church, Orlando, Florida (May 2022). Jadon has been married to a believer from Nazareth, Israel for 34 years. She is a graduate of Spring Arbor University and is an ordained minister from Christian Leaders Institute. You can find the poet online at kellyjadon.com