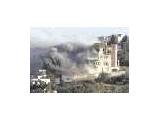 It was in a manger in Bethlehem two thousand years ago, that Jesus ,The Prince of Peace, was born. The angels in a nearby field celebrated this great occasion by praising:"Glory to God in the highest, and on earth peace to men on whom His favor rests"(Luke 2:14).
It is sad to note that the location of these events has become a stage for more violence and bloodshed. The minority of Christians who still live in th Bethlehem area are going through very severe conditions . In May the 28th Come and See published an article about the gradual outflow of Christians from the Holy Land, with their numbers dropping by half over the last century ( see :Palestine: Violence in the Holy Land moves Christians to leave http://www.comeandsee.co.il/article.php?sid=100&mode=thread&order=0). The above mentioned article also notes that Christians are now barely two percent of the roughly 3 million Palestinians in the West Bank, Gaza and East Jerusalem and that among the hardest hit areas is the vicinity of Bethlehem, a traditionally Christian district.
Late Tuesday night, the Israeli Army rushed in two armored battalions and a paratrooper company to the Bethlehem area . The move came after the Palestinians fired two mortar shells into the Jerusalem neighborhood of Gilo and tensions rose following an Israeli helicopter attack in Bethlehem .This attack caused the killing of four people that Israel alleges that at least two of them were preparing to stage a bombing in Jerusalem which was firmly denied by Mr Jibril Rajoub, Mr Arafat's West Bank security officer.
15,000 Palestinians attended the funerals of these four men . Despite such attacks, US President George W. Bush called on Israeli Prime Minister Ariel Sharon to act with restraint. In a telephone conversation, Mr Bush expressed strong concerns that Israel might launch a powerful military strike against the Palestinians during the G-8 summit.
Christian brothers and sisters around the world are urged to show concern and lift up prayers to God almighty so the bloodshed in the birth town of Jesus will stop and the remenant of christians will be spared all the difficulties.