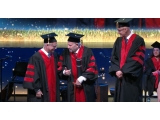 On Thursday, the 18th of May, Tel-Aviv University held an Honorary Degrees Conferment Ceremony and for the first time a Palestinian-Israeli figure was among the recipients. 89 year old journalist and author Atallah Mansour was among the 9 participants of this prestigious award. Since 1965, Tel-Aviv University granted honorary doctorates to distinguished figures from Israel and around the world. During the years the Dr hc (Doctor honoris causa (Latin: honorary doctor) was bestowed on Jimmy Carter, Ronald Reagan, Menachem Begin, Yithak Rabin , Shimon Peres, Margaret Thatcher and many others, but this is the first time it was given to a Palestinian citizen of Israel.
Born in Jish in the Upper Galilee to a Melkite Catholic family in 1934, Atallah Mansour is a veteran Palestinian-Arab author and journalist. He launched his career in 1954 when he published an interview with David Ben-Gurion in Haolam Hazeh magazine, where Mansour worked until 1958. He then joined Haaretz, becoming the first Arab to serve as an editorial member of a major Hebrew newspaper. From 1971 to 1973 he studied at Oxford University. In 1991, he left Haaretz for Al-Hamishmar, where he wrote a weekly column, and co-founded and co-edited Israel's first commercial weekly magazine in Arabic, Al Sonara.
In 1966, with his publication of In a New Light, Mansour became the first non-Jew to pen a novel in Hebrew.
He has published nine books in total, including an autobiography, political and historical studies, and several novels. He has also contributed articles to international publications including the Jewish Chronicle and the New York Times, and continues today to write a weekly article for Al Quds, the most popular newspaper in East Jerusalem.
The Senate of Tel-Aviv University resolved to honor Atallah Mansour in recognition "of his immense contribution to civil, cultural and democratic discourse in Israel over almost seven decades as a highly respected author and journalist; his life's work in building bridges between his Arab home community in Israel and the Jewish one, while offering the international readership a deeper understanding of Israel's complex reality; his thirty three-year career at the Haaretz newspaper, during which time he covered all of the key events in Israel's history, ranging from the Six Day War to the Israel-Egypt peace talks; his fairness, integrity and professionalism, coupled with his exceptional command of the Hebrew language; and his serving as an inspiration for a new generation of Israeli-Arab writers and journalists seeking to promote genuine inter-cultural understanding and coexistence in Israel".
Professor Mark Shtait, Rector and Professor Ariel Porat, President of Tel-Aviv University honored Atallah Mansour by conferring upon him the degree of DOCTOR PHILOSOPTIAE HONORIS CAUSA.
Tel-Aviv University is the largest Public research university in Israel with about 28,000 students. According to the Times ranking list, Tel-Aviv University was ranked 1st in Israel and 207th in the world.
Atallah Mansour was married to Evelyn Grayeb (deceased in 2010) and is father to Botrus, Bader and Samar, and has 7 grandchildren. He lives in Nazareth.
In addition to "In a New Light", Mansour published the following books:
Waiting for the Dawn - an autobiography written in Oxford, that special town, and its placid atmosphere. Most elite newspapers in Fleet Street welcomed it. The Jesuit monk and famous poet, Peter Levi, was enthusiastic.
Waiting for the Dawn, London 1975, Biography
Dayareh Mishneh (sub-Tenants) co-authored with Uzi Benziman - a political research in the Israeli policy and treatment of Israel's Arab minority between 1948-1992. Most Israeli Media welcomed the book – and still use it as an authoritative reference (Hebrew)
Dayareh Meshneh, with Uzi Benziman, Jerusalem 1992.
Hafnat Torab (a handful of Earth) is the writer's "last gift" to his family and friends on his 70-th birthday. A collection of memoirs in Arabic.
Hafnat Torab, memoirs, Nazareth 2004.
Narrow Gate Churches, the Christian Presence in the Holy Land under Muslim and Jewish Rule (English)
Narrow Gate Churches, Pasadena. CA 2004.
Still Waiting For The Dawn: A long life for a Palestinian with his step-father, Israel.
Still Waiting For The Dawn, Nazareth 2013
To watch Tel-Aviv University grant Atallah Mansour an honory doctroate: