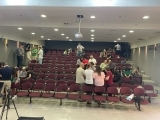 Many people are asking about our safety and how we are managing our lives during these difficult times in Israel/Palestine. In response to many requests, I decided to write the following simple essay as a follow up to
my previous essay
hoping that we continue our prayers especially for the followers of Christ in Israel/Palestine.
After the events that happened on Saturday morning. Many people were shocked and were reminded of the unresolved problems in our region. We grew up in a war zone and today we are going through another war. Such wars or violence will not address the root of the problem. But I will avoid political questions and describe the reality of the Palestinian churches in Israel during this painful season.
1. Many churches declared the need for prayer. For example, the Evangelical convention in Israel declared that we are dedicating certain days for prayer. We are begging God for mercy and for bringing peace to our region.
2. Our churches dedicated their Sunday services for teaching and preaching about peacemaking, the sovereignty of God, and the need to spread the Gospel in a country that is marked with hatred and bigotry.
3. Palestinian Evangelical Churches in Israel announced to their members the need to open their hopes for Jewish families who are in need for a temporary accommodation. This is an act of faith to honor Jesus and the values of His Kingdom as well as to help those who are in need.
4. We are praying for the people of Gaza as well as the rest of the Palestinian territories including their churches. We cry out for mercy and preserving the lives of the innocent.
In addition to this reality, the situation in our towns is very tense. Most of our members are sitting next to their TVs or to the internet seeking to hear the news and know more how to react. Schools are closed and we have now to manage taking care of our children at home. This is adding extra pressure not only on the children but also on the parent who are expected to go to work. Furthermore, we are not sure what to expect. Many have started to purchase food, water, and medicine to feel safe in case there are curfews.
As one of the pastors of a small local church, I am also concerned about my congregation and praying that God will empower me to encourage them during these harsh times. So how can you pray for us during these difficult times:
1. Pray that we will keep our eyes on Jesus trusting in his sovereignty.
2. Pray that we will have the courage to present a counter cultural message rooted in the love of God, His Justice, and mercy.
3. Pray that God's people will spread peace and be a sane voice in a blood thirsty season.
4. Pray for courage so that we affirm loving both Jews and Palestinians and affirm seeking a future for both nations.
5. Pray that God will hinder the spread of evil, revenge, and violence. May God grant all leaders the needed restrain and wisdom to look for long term solutions that promote dignity and honor to both Palestinians and Jews.
Thank you for your solidarity and prayers. If you like to know more how to pray for the "Middle-East" please feel free to get my book:
Praying through the Psalms.
May the Lord bless you.