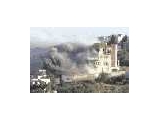 BEIT JALLA, West Bank ? Ronald Forthofer from Colorado cowered with a Palestinian family in the back bedroom of their home as Israeli machine-gun fire and tank shelling shattered the night.
That's why he's in Beit Jalla, Forthofer said the next morning.
Forthofer, 57, is one of 70 volunteers in the Christian Peacemakers group who believe their bodies will serve as human shields to protect the Palestinians in this hilltop town battered by 10 months of gunfights and Israeli tank shelling. He left Longmont, Colo., and came to live in a Palestinian house this week in one of the hottest points of fighting.
"We believe that we who are protected in America should experience and live in the same way that Palestinians are living," Forthofer said as he looked across the valley at an Israeli army outpost guarding Gilo, an Israeli neighborhood on disputed land.
Night gun battles frequently light up the valley between Beit Jalla and Gilo. Palestinian gunmen take up positions in and between Beit Jalla houses and fire on the Jewish apartment buildings across the valley, drawing return fire from the Israeli military.
Palestinians consider Gilo an illegal settlement built on West Bank land. Israel says it is part of Jerusalem and claims the whole city as its own, including the Arab section.
Forthofer is one of 20 Americans from the Episcopal Church who came on a peace mission and began living in Palestinian homes this week. Among the other volunteers are Europeans, Japanese and Israeli peace activists.
They quickly tasted life under siege. Brenda Holliday, 60, of Orange County, Calif., rested in a home hit by several bullets overnight. She said no part of the house was safe, and the children woke up frightened.
"If children live under this kind of oppression ... a vicious cycle will be repeated," she said.
At a news conference Wednesday, the volunteers called on the international community to intervene "to cease active support of Israeli aggression against the Palestinian people."
Israeli defense ministry spokesman Shlomo Dror called the group's presence in Beit Jalla a provocation. "The only question I can ask these people is why they are putting themselves as a human shield in Beit Jalla, not in Gilo?" he said. "We know they are there because they have a point of view against Israel."