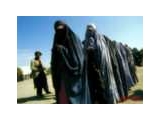 The president of Sudan, Omar Hassan al-Bashir, has urged Sudanese men to take more than one wife to increase the population. Speaking on Sudanese TV, President Bashir said since Sudan was the largest country in Africa and rich in resources, it needed more people to aid development.
"We should achieve this aim by having many wives," he said.
Sudan's current population is about 30 million.
The Sudanese should ignore international family planning policies, the president said in a speech to the ruling National Congress Party, shown on Tuesday night.
Men in this mainly Muslim country are allowed up to four wives, according to Islamic Sharia law.
Rebels opposed to Sharia law - which the Bashir government promotes - have been fighting for autonomy since 1983.