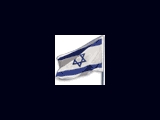 LEBANON, OR (ANS) -- It used to be that every year many thousands of American evangelical Christians would travel to Israel to see for themselves the Bible places they had read about, in many cases, since childhood.
Now, the tourism crisis that began in October 2000 could cost Israel some $3.1 billion in lost foreign currency revenues by the end of the year, according to a study by the Association of Incoming Tour Organizers in Israel.
The study predicts that only 190,000 tourists in organized groups from all countries will come to Israel this year, a decline of 77 percent compared to last year and of 85 percent compared to forecasts made before the Intifada broke out last September. Earlier forecasts had predicted that 1.2 million people would come on organized tours to Israel this year.
So, is it really dangerous to travel to Israel in an organized group? Pastor Jim Congdon of Topeka Bible Church, who traveled for three weeks this summer in Israel with a group of 25 believers from his fellowship, says that the only violence his group saw was "on CNN in our hotel room at the end of each fabulous day of touring."
Pastor Congdon wrote in a recent Jews for Jesus newsletter that he was saddened "that Americans by the droves have canceled their plans to visit Israel. Not only are tourists missing out on a wonderful time, but 12,000 hotel workers have lost their jobs so far this year. Israelis are very appreciative of those who do choose to visit."
If anyone is considering a group tour to Israel, Pastor Congdon's advice is to go. He says, "There has never been a better time for Christians to visit Israel."
>br> One noteworthy opportunity for pastors and ministry leaders to verify Pastor Congdon's observation is available from Coral Travel of Millburn, New Jersey. CoralTravel is offering a special Israel Inspection Tour for interested pastors or leaders of Christian organizations who may never have hosted a group tour to the Holy Land. This is a fully-guided trip offered in cooperation with the Israel Ministry of Tourism, El Al Airlines, and Holiday Inn/Crowne Plaza Hotels.
The leader may visit Israel with their spouse on a 7-day trip from New York for only $1438 ($669 for leader, $769 for spouse). Features include: roundtrip airfare, deluxe hotels, breakfast & dinner daily in Israel, all entrance fees, host, guide, driver, motorcoach, and baggage handling. Registration is available for one of two trips: January 8-14, 2002 or February 5-11, 2002. The deposit is $150 per person. And when the leader organizes and hosts a group to Israel (minimum of 20 paying participants) by December 31, 2004 with Coral Travel & Tours, the cost of this inspection tour will be refunded in full.
Bill Sharman is the Director of Tour Development for Coral Travel & Tours which has offices in Russia, Israel, and the United States. Sharman lived in Israel in 1983 with his wife and three children while he was working at the Voice of Hope radio station is south Lebanon. He has been organizing and leading groups to Israel since 1996. Bill Sharman may be reached at bsharman@quik.com for more information.