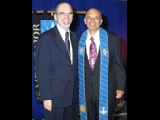 COLUMBUS, OH - The 214th General Assembly of the Presbyterian Church (USA) has elected the Rev. Fahed Abu-Akel, 58, a Palestinian-American pastor from Atlanta, moderator of the Assembly for the coming year.
Abu-Akel was elected on the second ballot, gleaning the votes of 269 of 520 commissioners - 57 percent. The Rev. Laird Stuart, of San Francisco, got 153 votes (29 percent), and the Rev. Arthur J. "Jerry" Tankersley, of Laguna Beach, CA, received 71 votes (14 percent).
Abu-Akel had spoken movingly of his memory of the 1948 Arab-Israeli war, when he was a 4-year-old child living in the Galilean village of Kuffer-Yassif, when Israeli troops drove his family from their home. As his father led the eight children away from their village, young Fahed looked back and saw his mother on the roof of their house, waving. She stayed behind while her husband and their children journeyed to a mountain refugee camp.
When they eventually returned, finding her alive, they asked her why she had not come with them, Fahed recalled. She told her husband: "This is our home, our land, and our church. If they want to kill me, they will need to kill me in my own home."
Fahed recalled his parents - frequent bed-time readings of the Psalms and the Gospels, and said two Scottish ministers who shared their home for a while had a strong influence on him and kindled his desire to enter the ministry.
Abu-Akel listed three priorities for the PC(USA):
Spiritual renewal;
A renewed commitment to mission; and,
A need for Presbyterian to cultivate "unity in diversity."
He said Presbyterians face many challenges. "You may be afraid," he said. "It's OK to be afraid. I remember that 4-year-old boy who discovered, and is still discovering, that Jesus Christ is the only hope for a broken world."
Abu-Akel was nominated by Ann Beran Jones, a commissioner from the Presbytery of Chicago. His candidacy was endorsed by the Presbytery of Greater Atlanta. In a letter conveying the presbytery's endorsement, the Rev. Edwin W. Albright, executive presbyter and stated clerk, wrote of Abu-Akel: "This broadly diverse Presbytery is split on most of the issues before the denomination, and yet we are able to speak with a single voice in the endorsement of the Rev. Fahed Abu-Akel as Moderator. This endorsement grows out of a confidence that he brings a passion for the peace, nurture and unity of a whole church."
Abu-Akel came to the United States in 1966. He earned a B.A. degree from Southeastern College in Lakeland, FL, and an M.Div. degree from Columbia Theological Seminary. He was ordained as a PC(USA) minister in 1978 in the Presbytery of Greater Atlanta and became a U.S. citizen in 1981. He married Mary Zumot in 1980.
For 21 years, he served on the staff of Atlanta's First Presbyterian Church. He is the founder and executive director of the Atlanta Ministry with International Students, and director of the National Christmas International House Program in 32 cities. He serves as an adjunct professor of world religions at Interdenominational Theological Seminary in Atlanta.
Stuart is pastor of Calvary Presbyterian Church in San Francisco . Tankersley is pastor of Laguna Presbyterian Church in Laguna Beach, CA.
On the first ballot, Abu-Akel received 219 votes, Stuart 166 and Tankersley 136.
The three top priorities Abu-Akel listed were spelled out in more detail in his written material:
Local and global mission: "Mission is the Great Commission of the church. We are the church, and by witnessing both in Word and in Deed about God's saving power in Jesus Christ our Savior and Lord, we bring hope to a broken world."
Spiritual renewal: "As Reformed Presbyterians, we have a tremendous opportunity to draw upon our traditions and our rich heritage in spiritual formation to bring about the spiritual renewal of our church members. It is only through its own spiritual renewal that the church can be effective in mission."
Unity in diversity: "In the midst of our diversity, God in Jesus Christ wants us to love one another, learn to forgive one another and most importantly, to be united in our witness to the World about his love to each of us."
He added: "I believe the church can best find unity in a renewed passion for mission."
Fahed Abu-Akel (right), the newly elected Moderator of the 214th General Assembly with Jack Rogers (left), out-going Moderator of the 213th General Assembly. Abu-Akel was elected with 296 votes. Photo by Danny Bolin.