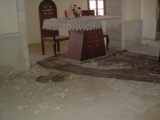 During the raid, in which eight missiles were fired at the south-eastern Zeitoun district of the city, an 18-year-old sustained serious injuries from shrapnel, medical sources said.
A Christian chapel, situated in the al-Ahli hospital compound, and a large metal workshop were badly damaged, and a five-storey building was destroyed, security sources said.
Several houses in the surrounding area also sustained heavy damage. An Israeli military spokesman confirmed the activity, saying troops were involved in a "counter-terrorism operation" in the area.
"Residents of the building were also involved in terrorist activities and two of them were arrested in the operation," he said, adding troops had found a pistol at the house.
In a separate operation, he said the Israeli airforce fired "several missiles towards weaponry workshops" in a nearby district, adding the army had no reports of casualties.
He did not know of any damage done to a Christian chapel.