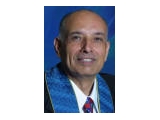 Abu-Akel was elected moderator of the 2.5 million-member Presbyterian Church (USA) last year. Since then, he has traveled around the country visiting congregations and church-owned seminaries, colleges and universities. He visits York County this weekend to preach at Beth Shiloh Presbyterian and to address members of the Providence Presbytery.
"He is a breath of fresh air," said Bob Rea of Providence Presbytery, which includes 59 churches and about 9,000 members from York, Chester, Kershaw and Union counties. Rea first met Abu-Akel while working in Atlanta. Rea is impressed by what he has seen and heard.
"He moderated the General Assembly with fairness, humor and compassion," Rea said. "His whole ministry has been with showing hospitality to strangers."
The 58-year-old Abu-Akel said he will bring local Presbyterians a three-fold message: Focus on spiritual renewal, foster unity in the midst of diversity and individual congregations should adopt two mission projects -- one local and one global.
"I want the local congregation to see what is needed in Rock Hill, but not to forget Mexico, Nigeria, Egypt, and Jamaica," Abu-Akel said during a telephone interview from a Washington, D.C., hotel. "We need to be balanced locally and globally and exercise the gift of hospitality. Through the gift of hospitality, that's the only way we are going to grow in discipleship to Jesus Christ. If we don't have the gift of hospitality, people aren't going to come."
In terms of missionary work, Presbyterians have been known for establishing churches, schools, colleges and hospitals all over the world, including Sudan. As moderator, Abu-Akel visited that war-torn African country and was impressed by the commitment of half a million Sudanese Presbyterians.
"I believe we need to put more emphasis on Sudan and the mission of the church. It's an incredible mission field," said Abu-Akel, who also spoke of the missionary opportunities for Presbyterians in the inner cities where waves of new immigrants have supplanted traditionally white Presbyterian congregations.
"Going throughout America and visiting overseas, I'm discovering that the Presbyterian Church is a mission church," he said.
Abu-Akel was born in Kuffer-Yassif, Galilee. Two Scottish Presbyterian missionaries lived on the second floor of his home. He immigrated to the United States in 1966 and became a naturalized citizen 15 years later. Based in Atlanta, Abu-Akel is director of the National Christmas International House Program. He also is founder and executive director of the Atlanta Ministry with International Students.
Since he was elected moderator of the 214th Presbyterian General Assembly, he has returned to his homeland. Last fall, he visited and worshiped with Palestinian Christians in Jerusalem and Bethlehem.
"I heard the cry of the Palestinian Christians asking us to pray for them and asking us to have solidarity with them to stay on the land," said Abu-Akel, who supports a nonviolent path toward peace between Israelis and Palestinians.
"We need to say to the state of Israel, 'We love you; we support you; we support your security; but what you are doing to the people in the West Bank is wrong,'" he said.
American Christians can effect change only by being evenhanded in their attitude toward Israelis and Palestinians, Abu-Akel said.
"As long as you don't have balance, we as Christians and we as Americans don't have credibility with a billion Muslims on the issue of justice," he said.
For American Christians, the challenge is to reconcile the demands of God and country.
"We as Christians love our government. We respect our government. This is our nation, but at the same time there is a difference between what my government wants and what the gospel wants," Abu-Akel said. "We need to challenge our government. How do we focus on peacemaking? How do we resolve conflict? How do we win the world politically, economically and socially? At this point, we are only focusing on our military might. In the 21st century, that's not going to work."