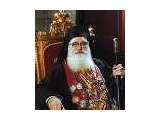 The Jerusalem district prosecutor?s office today filed an indictment against Yaacov Rabinovitch and David Morgenstern, accusing them of several instances of misrepresentation, forgery and fraud, in connection with the purchase of the Greek Patriarchate lands in Jerusalem and Beit Shemesh.
The affair involved 520 dunam (130 acres) in the Rehavya neighborhood, 5 dunam (1.25 acres) in the vicinity of the Jerusalem railway, and 19,000 dunam (4,750 acres) in the Beit Shemesh area.
According to the indictment, the two conspired with Benno Zissman, an Israeli citizen who maintained a close relationship with the former Greek Patriarch, to draw up documents for three deals (contracts and powers of attorney). Under the deals, the church leased the land to the State authorities for an unlimited period. The three also introduced an amendment to the Beit Shemesh land deal.
The three fraudulently stamped contracts and power of attorney documents with the church?s seal and forged the Patriarch?s signature. They also staged a meeting with the Patriarch to create the impression that the contract was signed in his presence.
Using these false documents, the three fraudulently obtained from the State the sums allocated to the Rehavya and Talbiye deals. $20 million were allocated to buying the rights to these plots of land.
According to the indictment, Adv. Jacob Weinroth, who represented Rabinovitch, was misled by his client into believing that the deal was genuine. The indictment adds that the defendants succeeded in defrauding the State of $16 million.